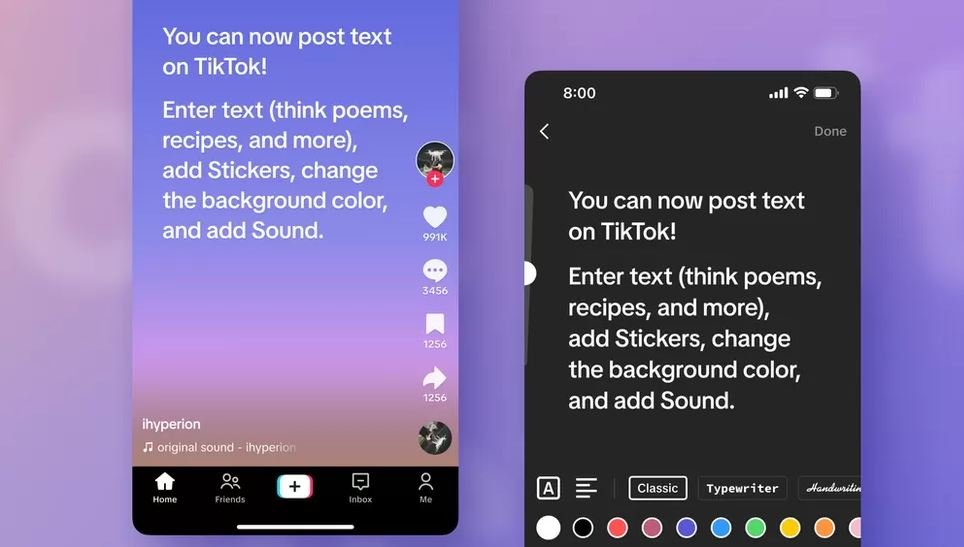 TikTok has announced a new feature that allows users to post text-only content as competition intensifies among social media giants. With this addition, TikTok users will now have three options to choose from when posting – photos, videos, or text. The platform aims to provide users with "another way to express themselves" and make text posts just as dynamic and interactive as videos or photos.
This move comes on the heels of TikTok's recent foray into the music streaming space, launching TikTok Music to rival platforms like Spotify and Apple Music. The company has been expanding its services globally, with the recent launch of TikTok Music in Brazil and Indonesia, and a beta version in Singapore, Mexico, and Australia. The music streaming service allows users to discover, share, and download music from TikTok and share their favourite tracks and artists within the TikTok community.
TikTok is also testing other features, including a new landscape mode, with selected users worldwide. The app continues to innovate to keep its massive user base engaged and maintain its position as one of the world's most popular online destinations. In 2021, TikTok surpassed even Google as the most visited online platform, boasting over one billion active users globally.
As the competition heats up in the social media landscape, TikTok's latest move aligns with the trend of platforms diversifying their offerings to keep users engaged. Instagram owner Meta, formerly known as Facebook, recently launched its Threads platform, which quickly garnered over 100 million users within five days of its release. Additionally, Elon Musk's Twitter underwent a rebranding, ditching its iconic blue bird logo for a black and white X, and even changing the term "tweets" to "x's."
With social media giants vying for user attention, the world can expect more innovations and features aimed at capturing and retaining audiences in the fast-evolving digital landscape. TikTok's expansion into music streaming and the introduction of text-only posts are clear indications of the fierce competition in the social media industry, which shows no signs of slowing down.
Related posts