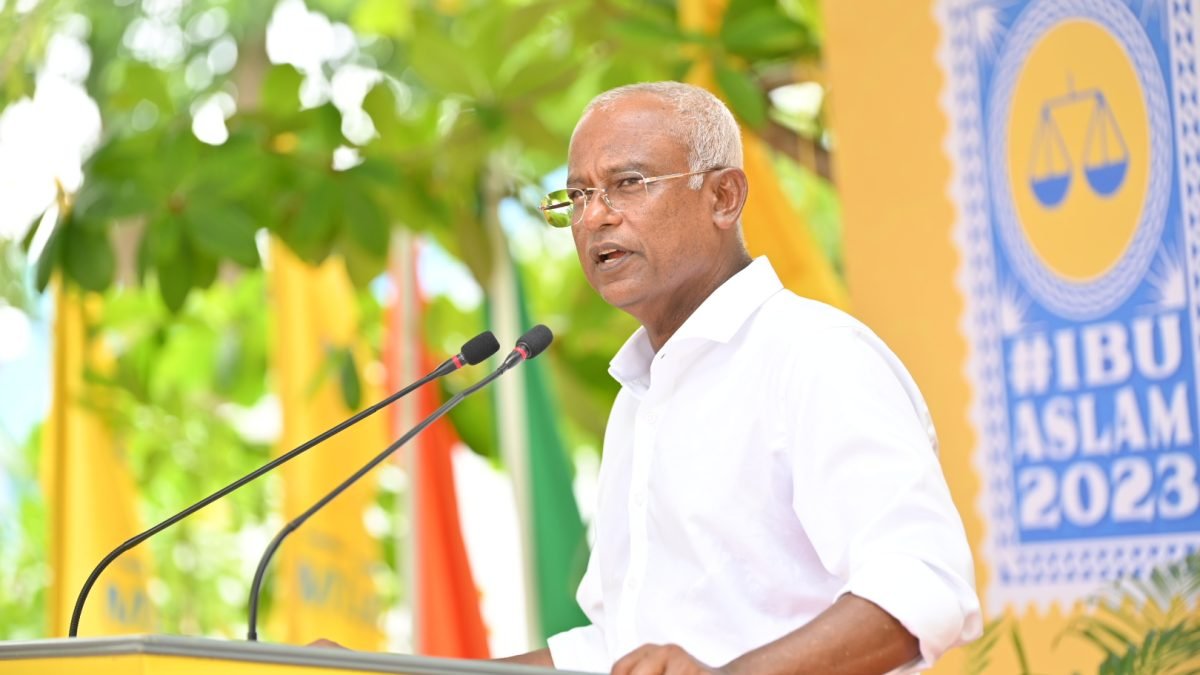 As the presidential election scheduled for 9 September draws nearer, incumbent President Ibrahim Mohamed Solih stands confident in his re-election bid. His unyielding belief in securing victory in just one round, bolstered by an estimated 130,000 votes, has been invigorated by his 'Ufaaveri Amaan Raajje' campaign.
The President cites his extensive travel during the campaign as proof, claiming significant support in highly populated areas like Male' and Addu, as well as other regions including Bodu Thiladhummathi, Noonu, Raa, Baa, and Lhaviyani. 
Even if 90% of eligible voters cast their ballots, the President asserts he will secure enough votes to win the election without necessitating a run-off.
Unwavering Confidence Despite Opposition
Addressing his potential opponents, President Solih has been forthright about their chances, stating that the real battle is between the Maldivian Democratic Party (MDP) and the PPM-PNC coalition. He downplayed the prospects of other candidates, opining that they would only attract votes from family and close friends, thus rendering a second-round moot.
"Votes might be split, but when the campaign started, we realised we were splitting into two parts: those who support the MDP and those who do not," the President said. He also revealed that preliminary discussions about forming coalitions with other candidates have already commenced, in the unlikely event of a second round.
Commitment to Agriculture and Development
Turning to domestic issues, President Solih has shown a keen interest in agricultural development, particularly in the Haa Dhaalu Atoll. Acknowledging the concerns voiced by farmers about transportation, Solih pledged the initiation of a cargo ferry network to link the islands, thereby simplifying the sale and distribution of agricultural produce.
"The produce [of farmers] needs to be transported easily while fresh. God willing, we will initiate this work with the Maldives Transport and Contracting Company (MTCC) during the next term and bring hope to farmers," he assured.
Addressing Pledge Originality and Voter Intelligence
At a recent campaign rally at Dhigurah, Alifu Dhaalu Atoll, President Solih criticised rival candidates for a lack of originality in their pledges, accusing them of modifying the ruling MDP's manifesto rather than creating substantive plans. "Voters are smarter than that," he said, advocating for more serious consideration before casting ballots.
Coalition Strengths and Quest for Stability
The President, buoyed by his coalition with the Maldives Development Alliance (MDA) and the Adhaalath Party (AP), described it as the 'biggest-ever' coalition to contest a presidential election in the Maldives. He stressed that this alliance will be pivotal for ensuring political stability and driving forward development plans.
"As we face the election today, we have full guarantee of taking the election in one round," he declared, underscoring his confidence in a decisive win and a future based on continued stability and growth.
For President Solih, this election is not just a referendum on his first term, but an endorsement of a vision for the Maldives that is secure, prosperous, and undivided.
Related posts