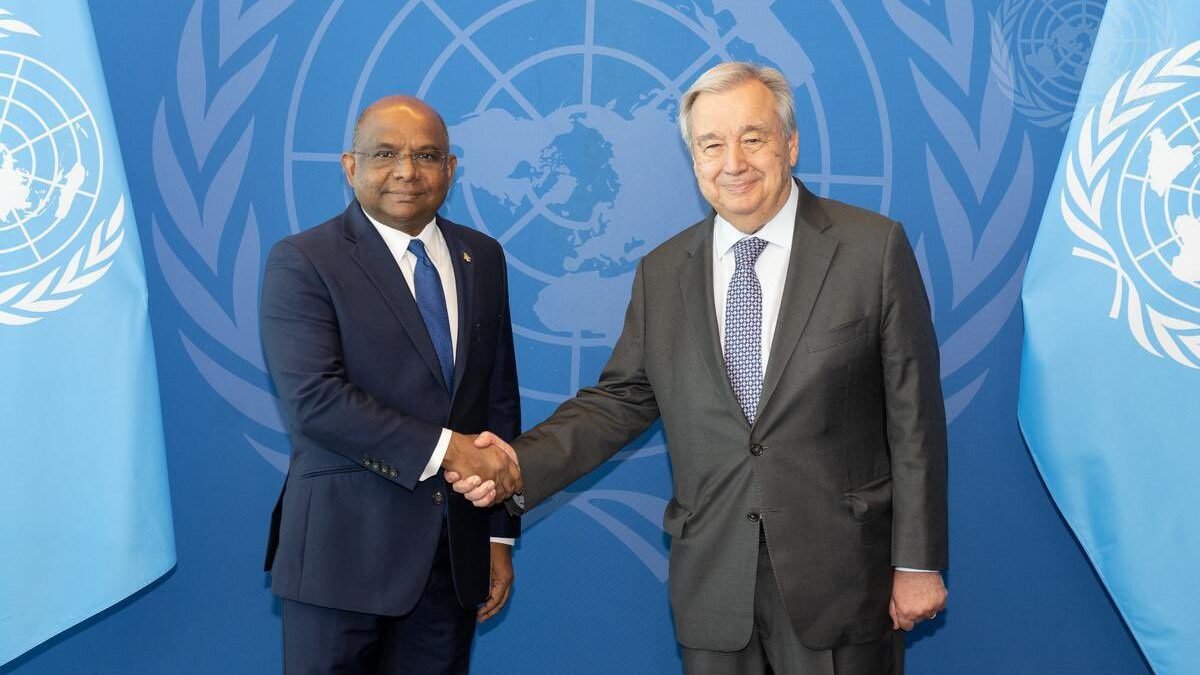 Foreign Minister Abdulla Shahid has expressed gratitude to the United Nations Secretary-General António Guterres for including the Maldives as one of the 30 pilot countries for the "Early Warnings for All" initiative.
During his meeting with the Secretary-General held in New York on Monday, Minister Shahid commended the Secretary-General on his decision to convene a "Climate Ambition Summit" during the High-Level Week of the 78th Session of the United Nations General Assembly and noted the work that needs to be done ahead of COP28 to the United Nations Framework Convention on Climate Change (UNFCCC), to be held in the United Arab Emirates later in the year. He also reaffirmed the Maldives' commitment to working on priorities such as climate change, environmental sustainability, gender equality and youth empowerment.
The "Early Warnings for All" initiative is a groundbreaking endeavour aimed at safeguarding all on the planet from dangerous weather, water, or climate-related incidents by establishing life-saving early warning systems by the end of 2027. The initiative is jointly led by the World Meteorological Organisation (WMO) and the United Nations Office for Disaster Risk Reduction (UNDRR), with assistance from the International Telecommunication Union (ITU), the International Federation of Red Cross and Red Crescent Societies (IFRC), and other collaborating partners.
Under the initiative, focused efforts will primarily be undertaken in 30 high-risk countries, including Small Island Developing States and Least Developed Countries. More countries are expected to be added as the initiative progresses.
Related posts