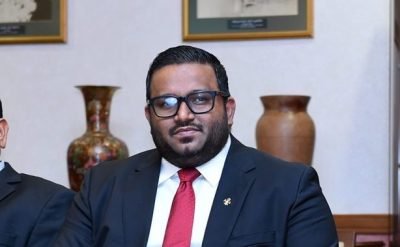 Former Vice President Ahmed Adeeb, who was serving a 20-year prison sentence over his role in the Maldives Marketing and Public Relations Corporation (MMPRC) corruption scandal, has left the country shortly after receiving a presidential pardon. Former President Ibrahim Mohamed Solih commuted the sentences of Adeeb and Abdulla Ziyath, former Managing Director of MMPRC, mere days before the end of his term. The details of Adeeb's departure, including his destination and the exact timing, remain undisclosed.
Both Adeeb and Ziyath were central figures in the MMPRC corruption scandal, the largest in the nation's history. They admitted to financial crimes exceeding MVR 1.3 billion and were serving sentences exceeding 20 years under a plea deal. Adeeb had faced charges of embezzlement, money laundering, and abuse of authority in a case involving the leasing of islands for resort development, causing a loss of nearly US$259 million in state revenue.
Abdulla Ziyath, similarly implicated, was sentenced to an additional 12 years for financial malfeasance, augmenting his existing eight-year sentence. His was tried and convicted on charges of embezzlement and misappropriation of funds from various state entities.
The MMPRC scandal, exposed in 2016 by Al Jazeera, involved embezzlement of over US$90 million and implicated several high-ranking officials, including former President Abdulla Yameen Abdul Gayoom, who was convicted in 2022.
The recent pardons have drawn sharp criticism from Transparency Maldives, which condemned the move as detrimental to the rule of law and an epitome of impunity enjoyed by the political elite. The organisation's statement highlighted the adverse impact of such decisions on efforts to combat corruption and uphold justice.
The development raises questions about the ongoing investigation of the MMPRC case, where 267 individuals, including former president Yameen, are implicated. The Prosecutor General's Office, led by Hussain Shameem, assures impartiality of the investigations.
Related posts