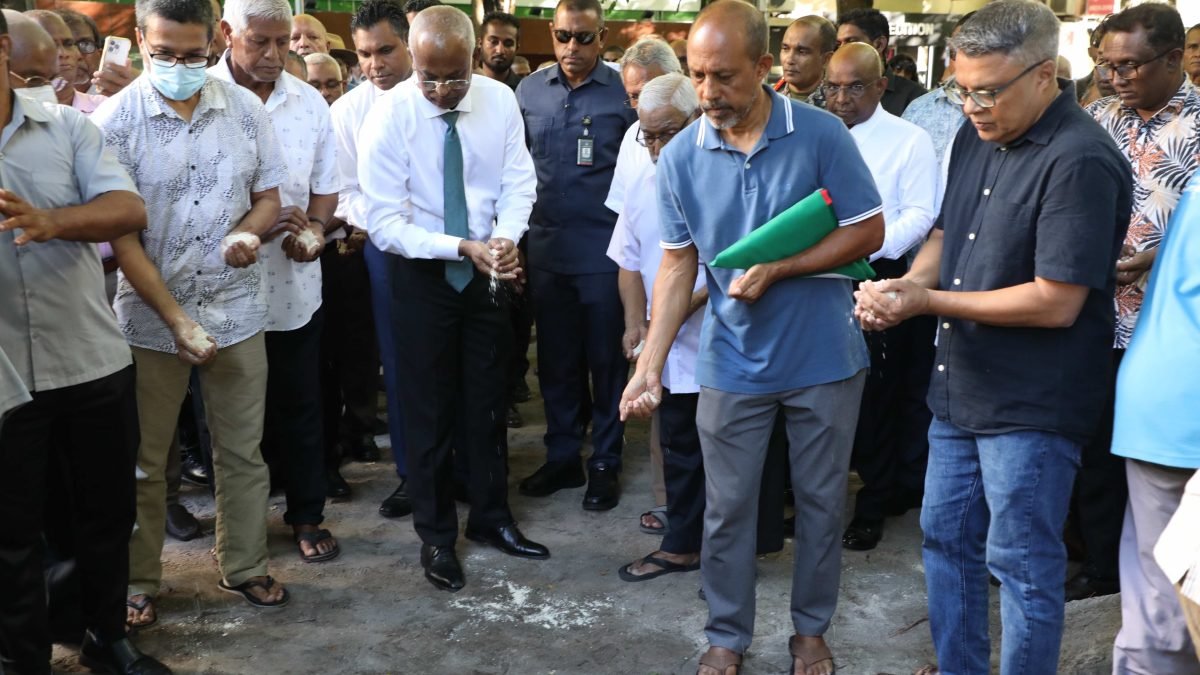 Respected statesman Abdulla Jameel was laid to rest Sunday afternoon at Galolhu Cemetery in Male' after a state funeral.
He passed away Sunday morning at the age of 87 after battling a long-term illness.
Thousands paid their last respects to the late state dignitary as his body was lying in state at the Islamic Centre. The funeral prayer for him was held at Masjid al-Sultan Mohamed Thakurufaanu al-Auzam. The body of the late Jameel was then transported to his final resting place, Galolhu Cemetery, where he was laid to rest with full state honours. The national flag draped on his casket was presented to his son, Mauroof Jameel.
President Ibrahim Mohamed Solih, Vice President Faisal Naseem, family members of the late Jameel, cabinet ministers, and other dignitaries attended the funeral.
Following Jameel's passing, President Solih declared three days of national mourning starting from Monday, with the national flag flown at half-mast during the period.
Jameel's inspiring legacy of public service
The late Jameel leaves behind a rich legacy of dedicated service to the Maldives, having played a significant role in shaping the nation's development over the years.
Jameel, a son of Sheikh Mohamed Jameel Didi, dedicated his life to public service. With unwavering commitment and exceptional leadership, he served in multiple ministerial positions, leaving an indelible mark on various government departments. He held notable positions in various government ministries, including health, tourism, home affairs, fisheries and agriculture, atolls, and housing, where he tirelessly worked to improve the lives of the people.
Read More: Long-Serving Statesman Abdulla Jameel Passes Away
Jameel's service and influence extended beyond his ministerial responsibilities. He contributed significantly to the President's Office and demonstrated his passion for youth development as the President of the Youth Center. Moreover, his tenure as the Head of the Maafannu Ward Office exemplified his dedication to grassroots governance and community welfare.
A stalwart in the political arena, Jameel served as a respected member of the Parliament, representing the Raa Atoll for more than three decades. His deep understanding of the needs and aspirations of his constituents was evident during his extended membership in the People's Special Assembly, where he advocated for their rights and worked tirelessly to address their concerns.
In recognition of his selfless service, the late Jameel was honoured with the distinguished title of "Nishan Izzuddeen" on November 10, 2008. This prestigious accolade underscored his invaluable contributions to the state and his relentless pursuit of progress for the Maldives.
Jameel is survived by his five children, including Mauroof Jameel, a former Construction Minister, who followed in his father's footsteps. He is also fondly remembered as the brother of Fathuhulla Jameel, the longest-serving foreign minister, and Dr. Aminath Jameel, both of whom have made significant contributions to the nation through their ministerial roles.
The passing of Abdulla Jameel is a great loss not only to his family and loved ones but to the entire country, and leaves a huge void in the hearts of those who knew and admired him. Even though he had long retired from politics, his dedication, integrity, and unwavering commitment to public service continue to serve as an inspiration for future generations.
Related posts