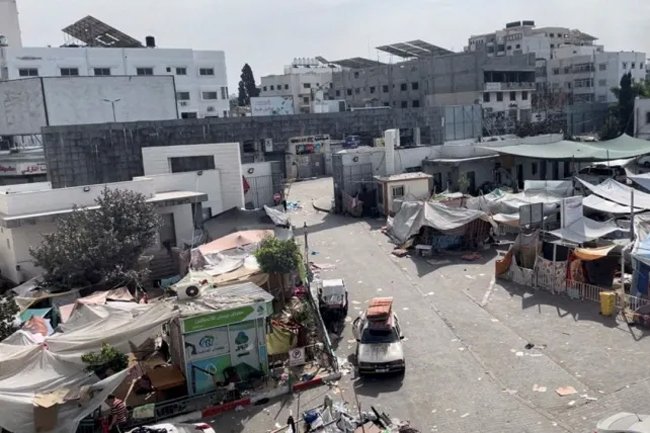 Israeli forces have reportedly ordered the evacuation of al-Shifa Hospital in Gaza. They have forced doctors, patients, and displaced individuals to leave. Some individuals claimed they were compelled to do so at gunpoint.
Al-Shifa Hospital has been without power for more than three weeks. This has left infants and newborns without access to oxygen. The hospital endured shortages of essential supplies for at least a week. Israeli troops and tanks have reportedly raided the facility. The hospital has been under siege for several days. It was left deserted just hours after the evacuation order was issued on Saturday. As Israeli army's deadline passed, the forced evacuations commenced.
The Israeli army spokesperson denied giving any evacuation order. They countered that they responded to the hospital director's request to allow citizens to evacuate via a secure axis. However, the director-general of hospitals in Gaza, Mohammed Zaqout, disputes the Israeli army's claims. He stressed that they were forced to evacuate under the threat of firearms.
The hospital management received the evacuation order at 8 a.m. local time and were directed along a route marked by "charred bodies" strewn across the streets. The situation escalated as panic ensued, with some evacuees leaving on foot, while patients unable to move were forced to remain with limited medical staff.
Al-Shifa Hospital housed over 7,000 people, which included critically ill patients and newborns, faced dire consequences. The evacuation order led to tragic outcomes, especially for the 35 premature babies without incubators, resulting in deaths and severe illnesses.
Reports indicate that soldiers allegedly humiliated evacuees, instructing them to wave white handkerchiefs and walk in a single line. The Israeli army directed people to evacuate through al-Rashid Street, deviating from the usual route for evacuations to the south via Salah al-Din Street.
The Israeli army is alleged to have provided no transportation means or fuel for ambulances and cars to transfer patients, premature babies, and displaced families.
Israel's claims that Hamas has a command centre beneath the hospital remain unproven, with no evidence available. Both Hamas and hospital staff consistently reject the claim.
The Palestinian Authority, governing the occupied West Bank, has released a statement condemning the evacuations. Characterising the forced evacuations as yet another facet of the "crimes of ethnic cleansing and genocide" committed by occupation forces against Palestinians, the statement highlights the urgent need for international intervention.
Palestinian Health Minister Mai al-Kaila called for international intervention to transfer premature babies from al-Shifa to hospitals in the occupied West Bank or Egypt.
Related posts