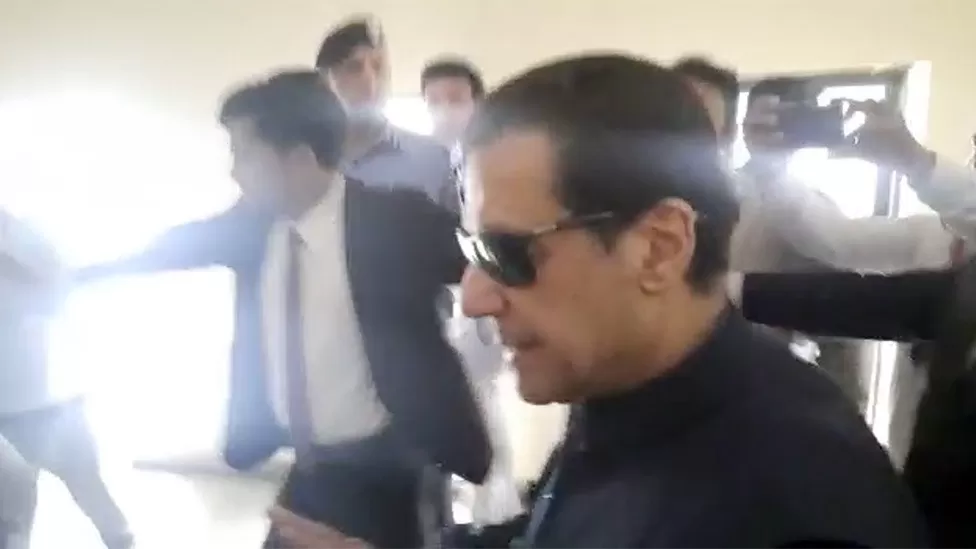 Pakistan's Supreme Court has ruled that the arrest of former Prime Minister Imran Khan is illegal and ordered his immediate release. The decision comes after Khan's legal team challenged his arrest by the National Accountability Bureau (NAB) in a corruption case, sparking violent protests across the country and prompting the government to call out the army to restore order.
Supreme Court Chief Justice Umar Ata Bandial also urged Khan to appeal to his supporters to remain peaceful as tensions remain high in Pakistan's streets. The action against Khan, a cricket hero-turned-politician and Pakistan's most popular leader, has aggravated instability in the country, which is grappling with a severe economic crisis.
Khan, who is currently on an eight-day NAB remand, has also been indicted in another corruption case in which he is accused of illegally selling state gifts during his tenure as prime minister. The government has registered over 100 police cases against Khan since his removal from power in April 2022 after he lost a confidence vote in parliament.
The arrest of Khan and subsequent protests have led to the arrest of at least three senior leaders of Khan's Pakistan Tehreek-e-Insaf (PTI) party and nearly 2,500 others. The unrest has also resulted in at least 11 deaths and dozens injured. PTI supporters have attacked military establishments and set state buildings and assets on fire.
While the Supreme Court's decision to release Khan has been met with celebrations from his supporters, the situation in Pakistan remains tense. Paramilitary troops and police remain on the streets in big cities, and mobile data services are still suspended. Social media platforms like Twitter, YouTube, Facebook, and Instagram have also been blocked.
Rights groups have called on Pakistan to exercise restraint in handling the protests and to restore internet services. "The Pakistani government should uphold the right to peaceful protest while responding to violence with the minimum force needed," said Patricia Gossman, associate Asia director at Human Rights Watch.
Pakistan's President Arif Alvi, who is also a senior PTI leader, said he was "alarmed, shocked, and deeply disturbed" over the situation in the country. "Protest is a constitutional right of every citizen of Pakistan but should always remain within the bounds of the law. The way some miscreants have damaged public property, particularly government and military buildings, is condemnable," the president said.
In summary, Pakistan's Supreme Court has ordered the release of former Prime Minister Imran Khan, whose arrest in a corruption case sparked violent protests across the country. While tensions remain high, the court's decision has been met with celebrations from Khan's supporters. However, Pakistan continues to face instability and economic crisis, and rights groups have urged the government to exercise restraint in dealing with the protests.
Related posts