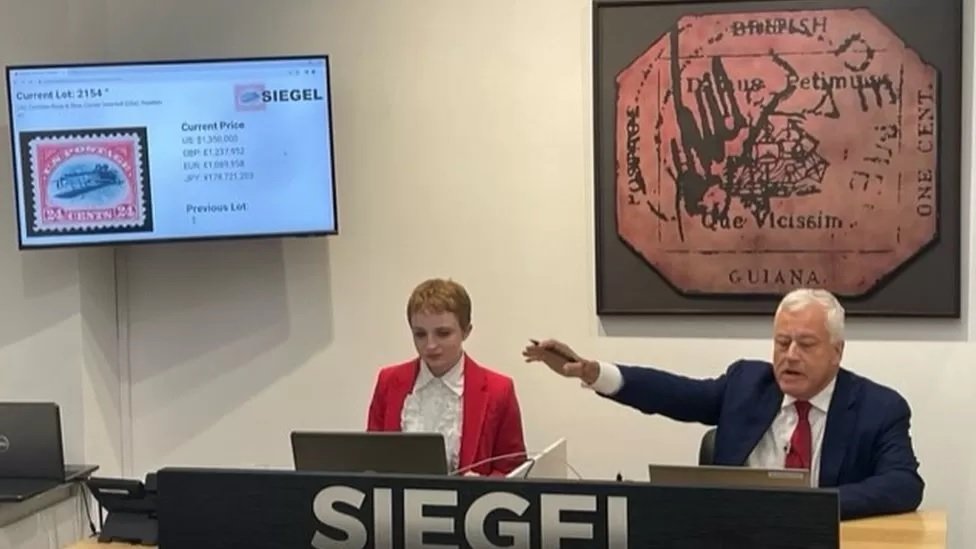 The famous Inverted Jenny postage stamp, dating back to 1918, achieved a record sale of US$2 million at the Robert A Siegel Auction Galleries in New York. The stamp was originally priced at 24 cents before becoming an icon due to its rarity and the captivating error in its design.
The Inverted Jenny is a piece of American history, with only 100 stamps ever printed. The design flaw, featuring an upside-down image of the Curtiss JN-4 airplane, adds uniqueness to the sought-after collector's item.
Stamp enthusiast Charles Hack, 76, secured his childhood dream by acquiring the "holy grail of postage" in the recent auction. Hack already possesses several other Inverted Jennys. He described the purchase as a lifelong aspiration fulfilled.
Hack has been a dedicated collector who acquired an Inverted Jenny in the early 2000s for around US$300,000 and another in 2007 for nearly US$1 million.
The Inverted Jenny holds a special place in the history of airmail, being part of a collection that marked the commencement of regular airmail service. Its prominence was amplified when it was featured in a 1993 episode of The Simpsons. The animated sitcom depicted Homer Simpson encountering a sheet of Inverted Jennys at a yard sale, discarding them alongside priceless artefacts like the Declaration of Independence.
The stamp's value skyrocketed immediately after its initial printing. Over the years, it has consistently commanded high prices in auctions.
The recently sold stamp numbered 49, reappeared after a century of obscurity. It was stored in a bank vault by its owner and descendants since 1918.
The gum on the stamp is described as "Mint Never Hinged," indicating it has never been mounted or hinged.
Hack observed the Inverted Jenny as a valuable stamp and an invaluable piece of American history that deserves to be protected and revered.
He outlined plans to protect the recently acquired stamp from any potential deterioration. His preservation strategy involves shielding the Inverted Jenny from exposure to light, a practice aimed at maintaining the stamp's colours and condition.
Related posts