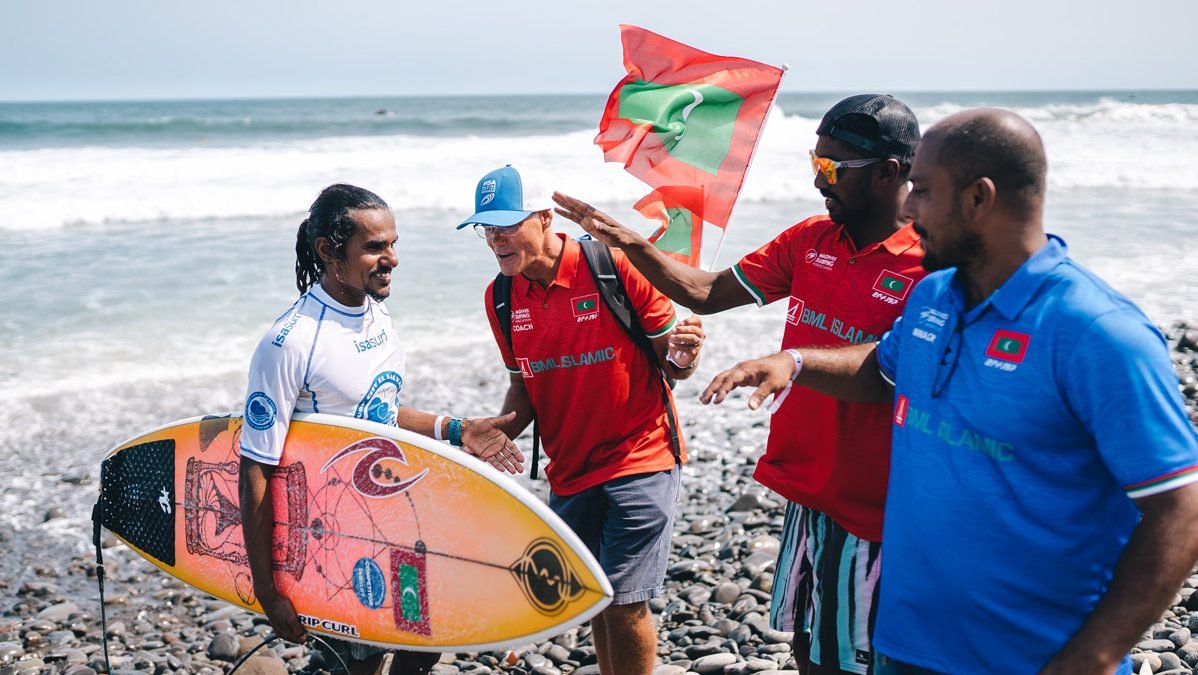 Maldivian surfers showed promise as they bowed out of the second round of repechage event at the World Surfing Games in Surf City El Salvador. As they say goodbye to the competition, these talented athletes have proven their mettle and are now prepared to take on the challenges that lie ahead.
REPECHAGE ROUND 1
The repechage event gave the athletes another chance at redemption.
In the first round of the repechage event, one surfer stood out with his impressive performance. Maldivian surfer, Hoodh Ahmed (Hoobz), delivered an outstanding display in the first round of the repechage event, earning a total score of 6.17 points to finish the heat in first place.
Smiley, despite facing stiff competition in heat 22, managed to secure second place. Dwight Pastrana from Puerto Rico dominated the heat with an outstanding score of 13.16 points, but Smiley astonished everyone by scoring 4.17 points in his final wave, bringing his total to an impressive 5.94 points. Greece's Gerasimos Veneeris claimed the third position with 2.50 points.
REPECHAGE ROUND 2
Unfortunately, disappointment awaited the Maldivian athletes in the second round of the repechage event.
Ammadey, who was seeking redemption after losing in the second round of the main event, faced tough competition in Heat 5. Despite his efforts, he finished fourth with 4.20 points. France's Joan Duru won the heat with an impressive score of 15 points, with Kaspar Hamminga from the Netherlands and Ricardo Delgado from Puerto Rico securing the second and third positions, respectively.
Both Hoobz and Smiley faced a similar fate, finishing fourth in their respective heats. Hoobz ended with 4.46 points, while Smiley finished with 5.87 points. As a result, all three Maldivian athletes have been knocked out of the competition, leaving them with a sense of disappointment but also determination to come back stronger in the future.
MAIN EVENT
In the main event, Ammadey made a promising start by securing second place in his heat with an impressive score of 6.36 points. This accomplishment propelled him to the second heat, where unfortunately he eventually lost. While Ammadey's journey in the tournament came to an end, his performance in the main event showcased his talent and potential.
Hoobz earned a third place finish in Heat 39 of the first round of main event with 6.27 points, while Smiley finished at the bottom of the standings in Heat 43 of the first round of the main event with 6.23 points. Hoobz narrowly missed qualification for the next round, falling just short of the mark set by the formidable Tom Boelsma, a five-time Netherlands' national champion.
Though the Maldivian surfers may not have achieved their desired outcome in the World Surfing Games, their passion and dedication have left a lasting impression. With their sights set on the future, these talented individuals will undoubtedly continue to train hard and strive for success in the world of surfing.
Related posts