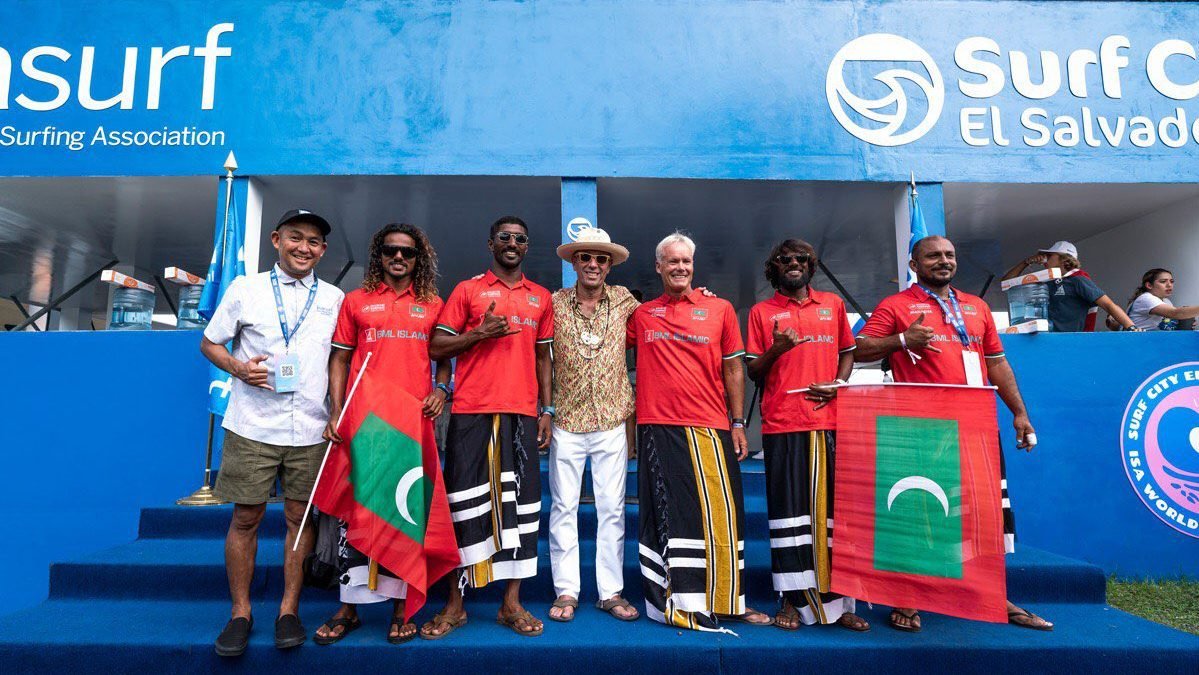 Maldivian surfer Ahmed Agil (Ammadey) has earned an impressive second place finish in Heat 11 of the first round in the ongoing World Surfing Games in Surf City, El Salvador.
Ammadey, the current Maldivian National Surf League Champion, was the first of three surfers representing the Maldives to hit the waves in the competition, organised by the International Surfing Association (ISA), which kicked off on Tuesday.
Mexico's Sebastian Hernandez won the heat with 16.34 points, while Ammadey staved off fierce competition from Netherlands' Kasper Hamminga, and India's Sanjay Selvamani (Sivaraaj Baaboo) to win the second place with 6.36 points. Hamminga ended the heat in third place with 6.10 points, with Selvamani behind him in fourth on 3.97 points.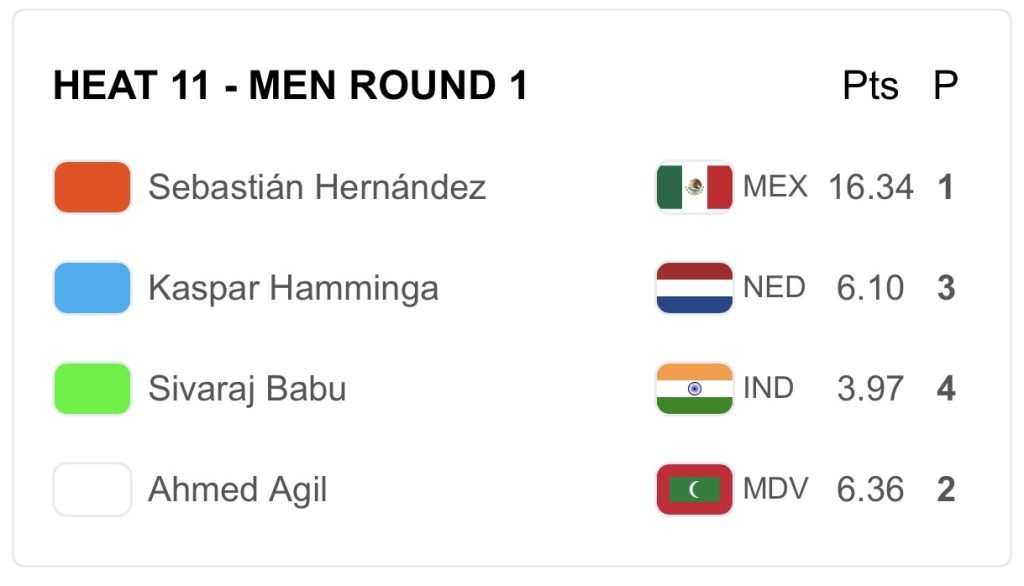 Ammadey's performance in the heat met the expectations of the Maldivian National Surfing team coach Clyde Martin.
Speaking before the heat, the South African said, "Today, Ammadey is competing in heat 11. We hope to finish in the top 2. The next day, Smiley and Hoobz have to do the same." Martin expressed confidence in the team's ability to perform well in the competition. "There are no problems with the expectations being high for this tournament. This is the toughest tournament in the history of surfing. And there will be exceptional surfers competing. That is not our worry. We are focused on winning every heat one by one," he said.
The first round of heats in the 2023 ISA World Surfing Games was held on Wednesday. 294 surfers from a record 63 nations participating in the competition
Debut competition at World Surfing Games
Hoodh Ahmed (Hoobz), is competing for the first time in an international tournament. He will take on Mexico's Jonathan Corzo, Netherlands' Tom Boelsma, and India's Ajeesh Ali in heat 39. Meanwhile, Ismail Rasheed (Smiley), who is training under an Olympic solidarity scholarship, will compete in heat 43 against Mexico's Alan Cleland, Netherlands' Beyrick De Vries, and India's Ramesh Budihal.
In heat 39, Hoodh Ahmed (Hoobz) will face tough competition from Jonathan Corzo, the 2017 ISA World Champion. Joining them in the same heat is Tom Boelsma, a five-time Dutch national champion. Ajeesh Ali, who has claimed the Indian National Championship three times, will also prove to be a formidable contender in Hoobz's heat. Meanwhile, in heat 43, Ismail Rasheed (Smiley) will take on Ramesh Budihal, a six-time Indian National Champion.
Coach Clyde believes that the climate and temperatures in El Salvador, resembling those of the Maldives, provide a significant advantage for the athletes. The athletes are accustomed to similar conditions. Plus, they do not have to switch out any equipment as well. However, Clyde acknowledges that the waves in El Salvador will be stronger than those in the Maldives, providing an additional challenge to their performance.
Related posts