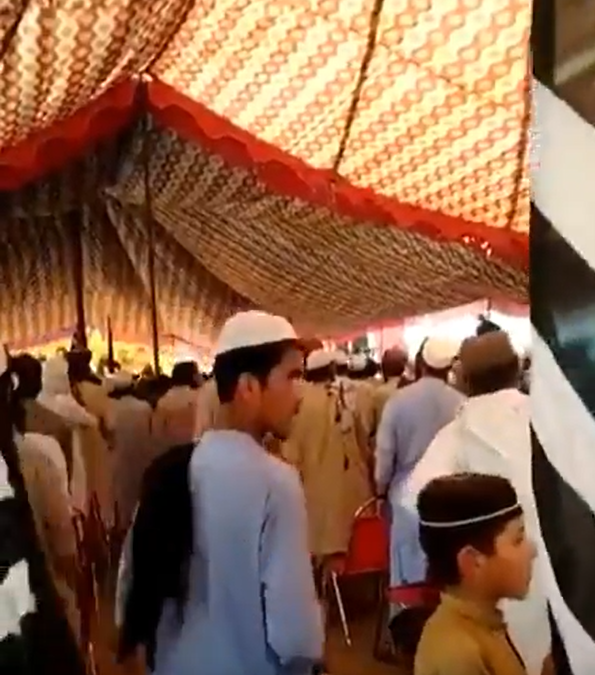 A deadly explosion occurred during a rally organised by the Islamist party Jamiat Ulema-e-Islam-Fazl (JUI-F) in the northwest Bajaur district, near the Afghanistan border.
The tragedy has left at least 44 people dead and over 200 injured.
Among the victims of the attack was Maulana Ziaullah, a prominent regional leader of JUI-F. Senator Abdur Rasheed and former lawmaker Maulana Jamaluddin were present on the stage when the explosion occurred. However, both escaped unharmed.
The JUI-F workers' convention was held Sunday in Khar when the deadly explosion occurred.
The investigation into the incident is still ongoing, as preliminary evidence suggests the explosion could have been a suicide attack. In an effort to determine the perpetrators, the police are combing through the wreckage and gathering all possible leads.
The motive behind the attack remains unclear at this point. No group has claimed responsibility for the incident.
Security forces have cordoned off the area to secure the site and maintain order.
Party Leader Fazal-ur-Rehman urged that Pakistani Prime Minister Shehbaz Sharif must initiate an investigation into the explosion. Party officials said Rehman was not at the rally during the incident.
Rehman is widely regarded as a pro-Taliban cleric. His political party holds a position within the coalition government in Islamabad. The meetings were arranged throughout the country to rally and mobilise supporters ahead of the upcoming elections.
The incident has garnered widespread condemnation from various political parties, civil society organisations, and religious leaders across the country.
The political gathering where the explosion occurred was seen as an essential opportunity for the JUI-F to rally its support ahead of an upcoming election, expected later this year.
The local branch of the Islamic State group (IS), known as Khorasan Province (ISKP), claimed responsibility for several attacks in the Bajaur region earlier this year.
Bajur, formerly known as a tribal region and now a district, has historically been a sanctuary for Islamic militants. However, in recent years, the Pakistani military has undertaken significant operations to eradicate militancy from the area. Despite these efforts, militants continue to launch attacks on security forces and civilians. The region remains a sensitive area with ongoing security challenges.
Related posts