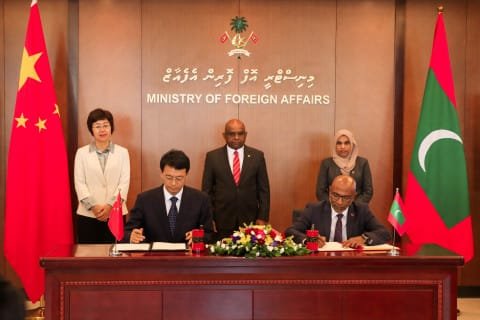 The Maldives and China on Tuesday signed key agreements on infrastructure development and health.
The agreements included a "Memorandum of Understanding Between China International Development Cooperation Agency of the Government of the People's Republic of China and Ministry of Foreign Affairs of the Republic of Maldives on Development Cooperation Plan (2023-2025)," which will focus on promoting cooperation in areas such as health care, climate change, infrastructure, agriculture, people-to-people exchanges, and disaster prevention and reduction.
Other agreements signed included "Letters of Exchange on the Feasibility Study on Hospitals in Maldives," "Letters of Exchange on Renovation of the Maldives National Museum," and "Letters of Exchange on the Maintenance of the China-Maldives Friendship Bridge."
The agreements were signed at a ceremony held at the Ministry of Foreign Affairs, which was attended by Foreign Minister Abdulla Shahid and Chinese Ambassador to the Maldives Wang Lixin.
During the ceremony, Minister Shahid expressed his gratitude to the Chinese government for their contributions to the socio-economic development of the Maldives. He also emphasized the close relations the Maldives currently enjoys with China and noted that the construction of critical infrastructure such as hospitals will have a significant impact on the daily lives of the Maldivian people.
China has been a key development partner for the Maldives, which is heavily reliant on tourism as its main source of income. The Maldives has been seeking Chinese investment to fund its ambitious infrastructure plans, including the construction of a new runway at Velana International Airport and a bridge connecting the capital, Male, with the airport island of Hulhule'.
On Tuesday, Foreign Minister Shaid and Foreign Secretary Ahmed Latheef also met with Deng Boqing, Vice Chairman of the China International Development Cooperation Agency (CIDCA).

Related posts