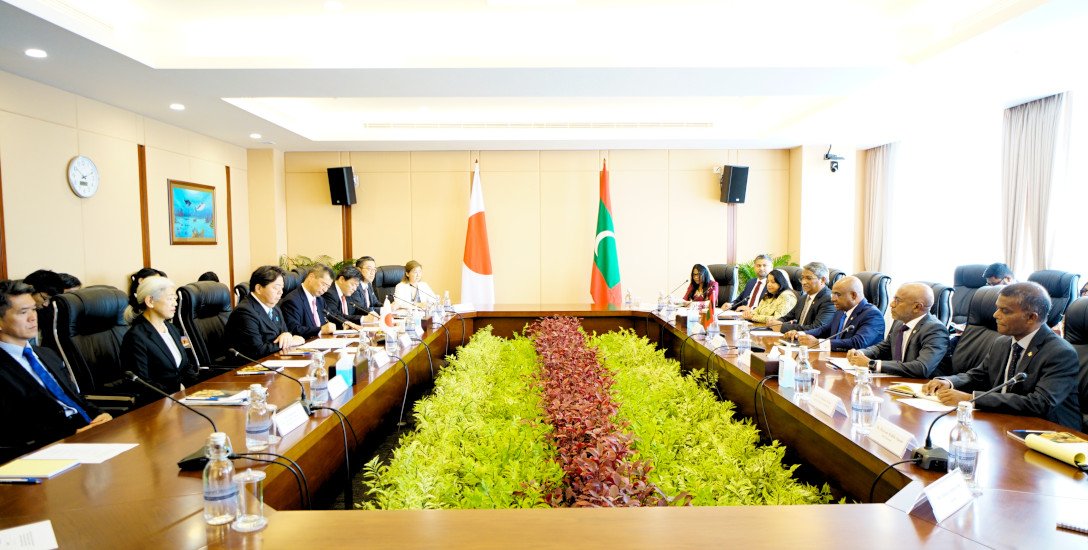 The Maldives and Japan held talks on Sunday to further strengthen the bilateral partnership and foster close people-to-people engagement and friendship. The talks took place at the Ministry of Foreign Affairs in Male' during the official visit of Japanese Foreign Minister Hayashi Yoshimasa.
According to a statement released by the Foreign Ministry, both countries exchanged views on key areas of bilateral and multilateral interests and agreed to work closely together on important issues of mutual interest.
During the talks, Foreign Minister Abdulla Shahid expressed gratitude to Minister Hayashi and the Japanese government for the generous assistance provided over nearly five decades of cooperation. Minister Shahid shed light on the significant role Japan played in the socio-economic development of the Maldives. He noted, in particular, the contribution of Japan towards the expansion of education services by building schools across the archipelago in the 1970s and 1980s, the technical assistance provided for the development of the fisheries industry, the assistance provided in establishing the telecommunications infrastructure vital for the growth of the tourism industry, and the contributions of Japan towards capacity building through the Human Resource Development Scholarship Programme. Minister Shahid further expressed his appreciation to the Japanese government for their continuous support and partnership in these critical areas, which have had a profound and positive impact on the development and well-being of the Maldives.
The statement further said: "Minister Shahid expressed his gratitude to the government and people of Japan for their generosity in providing much-needed assistance to the Maldives during the COVID-19 pandemic by facilitating a crisis response emergency support loan of approximately US$47 million and also donating 112,000 AstraZeneca vaccines to combat the pandemic."
The Maldives also expressed appreciation for Japan's recent assistance in the field of maritime security and reaffirmed the Maldives government's strong commitment to the "Free and Open Indo-Pacific Plan (FOIP)" announced by Prime Minister Kishida in March this year.
"Both ministers reaffirmed their commitment to further strengthen the partnership bilaterally, through economic and development cooperation, and in international fora by working together on global issues such as climate change and cooperation to achieve the Sustainable Development Goals, as well as international peace and security," the statement said.
Related posts