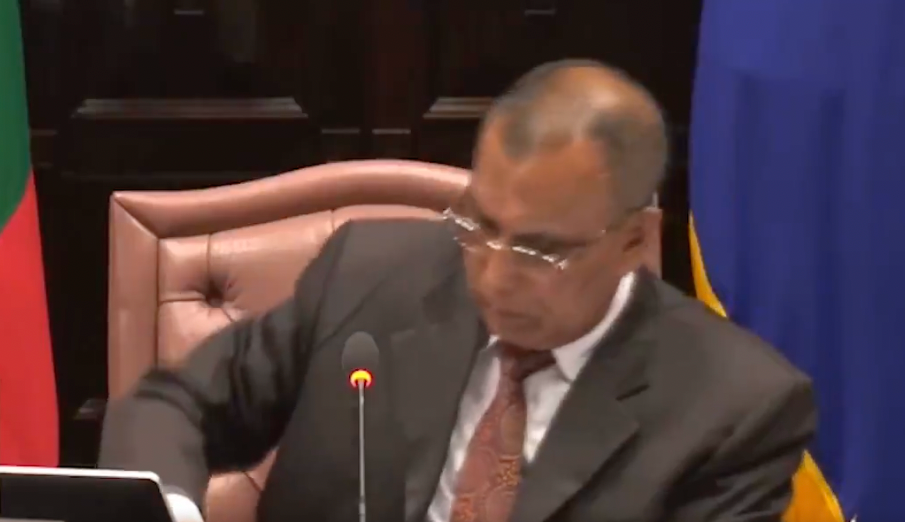 Turmoil engulfed the Parliament on Wednesday as MP Hassan Afeef brought the sitting he was presiding over to an abrupt end after receiving a phone call. The incident, which unfolded amidst contentious debate over a resolution proposed by the ruling Maldivian Democratic Party (MDP), raised questions about the integrity and stability of the parliamentary proceedings.
Afeef's actions were captured on video as he received the call and inadvertently left his microphone on. The phone conversation was plainly heard by all present in the chamber, as Afeef exclaimed, "Yes, I'm concluding the session now," before abruptly ending the call. The identity of the caller remains shrouded in mystery, further fuelling speculation and adding to the intrigue surrounding the incident.
The use of cell phones during parliament sittings is strictly prohibited, making Afeef's response all the more extraordinary. In his subsequent statement, Afeef asserted that the session could not continue due to a perceived loss of order in the chamber, which forced him to bring the proceedings to a premature end.
The resolution, which was proposed by the MDP aimed at resolving the ongoing deadlock in parliamentary proceedings, had already stoked heated debates and drawn vocal opposition from opposition members including those recently defected from the MDP. Their discontent and protests reverberated throughout the sitting, creating an atmosphere of heightened tension.
Following Afeef's decision to conclude the session, he announced that the next parliamentary gathering would be scheduled for Monday, leaving crucial agenda items unresolved and casting doubts on the future course of legislative actions.
According to political analysts, the abrupt conclusion of the sitting is shocking and it raises questions about transparency, parliamentary protocol, and the effective functioning of the legislature.
Related posts