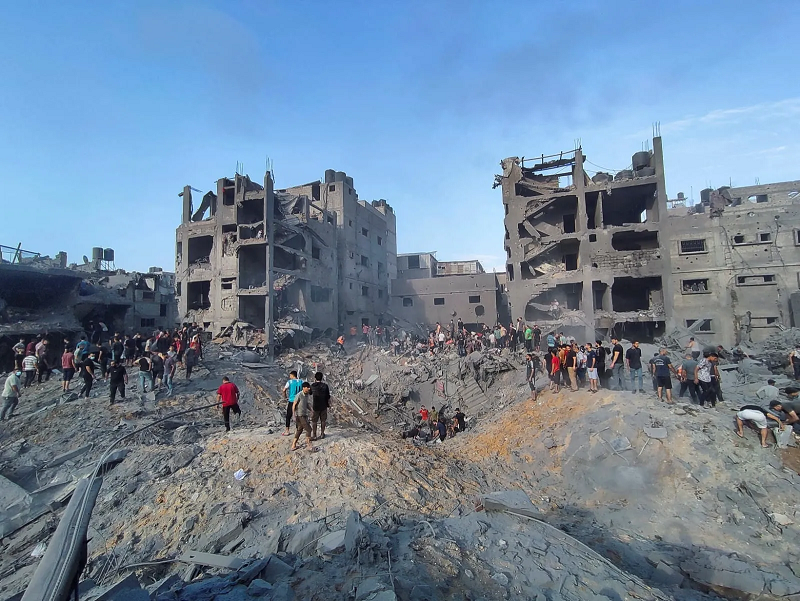 Israeli attacks on the Jabalia refugee camp have killed at least 18 Palestinians. The forces also executed a raid on the Ibn Sina Hospital complex in the West Bank, near Jenin, resulting in 14 people being injured. The attack on a medical facility raises concerns about the violation of international humanitarian law, which prohibits targeting civilian infrastructure during armed conflicts.
This comes as part of a series of events that contributed to a worsening crisis affecting both Palestinians and Israelis.
Gaza is currently under a communications blackout due to a fuel shortage for generators, hindering the ability of residents to access vital services and communicate with the outside world.
The situation is aggravated by the continued Israeli raids on the al-Shifa Hospital in Gaza, putting the lives of women, children, and the sick and wounded at significant risk.
The Indonesian Hospital in northern Gaza has been reported as "completely out of service," further limiting medical resources in an area already struggling with a collapsed health system.
The number of Palestinians killed by Israeli forces in Gaza since 7 October has now reached 11,470, including more than 8,000 women and children. The number of wounded has surpassed 28,000.
Israeli forces have also increased arrests in the occupied West Bank, detaining 47 Palestinians overnight. The majority of these arrests, 26 in total, occurred in Nelin village near Ramallah, accompanied by reports of torture and house vandalism.
Since 7 October, Israel has arrested a total of 2,800 Palestinians.
In a separate incident, a shooting attack at a checkpoint north of Hebron in the West Bank resulted in the deaths of two Palestinian resistance fighters. There are now fears of potential collective punishment as Israeli forces are expected to conduct raids at the homes of the fighters involved.
An Israeli strike targeted the al-Falah School in the al-Zaytoun neighbourhood, south of Gaza City, killing several displaced people, mostly women and children.
Meanwhile, the World Health Organization (WHO) expressed deep concern about the potential spread of diseases in Gaza. Overcrowded shelters, insufficient access to food, and clean water worsen the health crisis in the region, posing a significant threat to the well-being of the population.
The aftermath of the Israeli attacks has left Gaza's infrastructure in shambles, limiting access to essential services and creating an environment ripe for the spread of diseases.
As winter approaches, there is a heightened fear of disease escalation.
The WHO highlights the urgent need for international assistance to address the immediate health concerns and prevent a further deterioration of the situation.
More than 70,000 cases of acute respiratory infections and over 44,000 cases of diarrhea have already been recorded.
Related posts