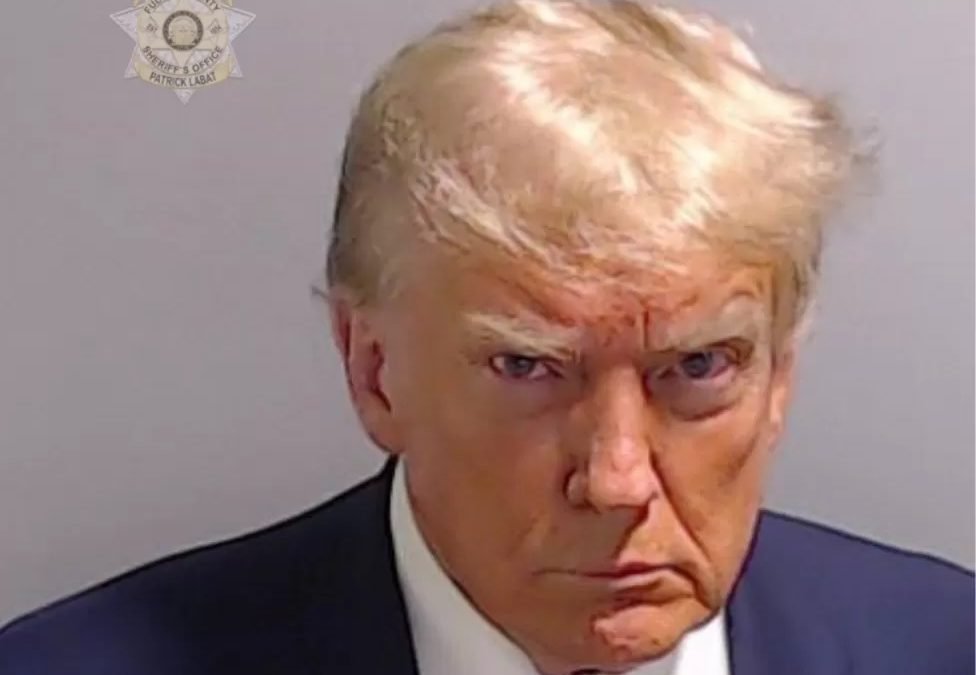 Former US President Donald Trump surrendered himself to authorities in Georgia on charges related to alleged manipulation of the 2020 election results. This marks a historic moment as the first-ever mugshot of a former US president was taken during his arrest.
Trump posted bail of US$200,000, allowing him to leave the Atlanta jail until his trial. Supporters gathered outside the courthouse, waving signs and chanting slogans both in favour of and against the former president.
Immediately after his release, Trump held an impromptu press conference where he passionately declared the case against him to be a "travesty of justice." He maintained his innocence and accused his political opponents of orchestrating a witch hunt against him. This incident marks Trump's fourth arrest within just five months, all within the context of various criminal cases.
This arrest provided the first police booking photo of the former president. The image quickly circulated across social media platforms, drawing a mix of reactions from the public.
Trump made a return to X, formerly known as Twitter, after a prolonged hiatus since January 2021. His return was marked by a post where he shared his personal website address along with his mugshot. The caption, written in all capitals, read: "Election interference. Never surrender!" The post garnered a considerable amount of attention and engagement, highlighting the continued influence Trump wields over his followers.
Trump's booking photo puts him in a category shared by other prominent figures who have faced legal troubles. The list includes figures like Elvis Presley, Frank Sinatra, Al Capone, and Dr Martin Luther King Jr., all of whom have been captured in similar police arrest booking photos.
Former US President Donald Trump's surrender on charges related to election result manipulation has sparked a political firestorm, as he asserts that the cases against him are politically motivated. Trump's claims stem from his Republican lead in the upcoming race against Democrat President Joe Biden in next year's election, adding a layer of complexity to an already historic legal situation.
Trump has now become the first former US president to face indictment, marking an unprecedented moment in the country's history. Arriving by private jet from New Jersey, Trump was booked into the Fulton County Jail for approximately 20 minutes. The sight of the former president undergoing the booking process drew attention and commentary from around the nation.
Jail records revealed physical details of Trump, describing him as a 6-foot-3-inch, 215-pound white male with blond/strawberry hair and blue eyes. His inmate number, P01135809, stands as a reminder of his current legal predicament.
Speaking at the airport prior to his arrest, Trump remained resolute in his stance that he is entitled to contest the election results.
The charges against him, along with 18 co-defendants, include allegations of interfering in Georgia's election results following his narrow loss to Biden by less than 12,000 votes in the state.
One of the central pieces of evidence in the case is the infamous phone call in which Trump urged Georgia's officials to "find 11,780 votes." This call was widely reported and criticised.
Despite his refutations, half of Trump's co-defendants, including prominent figures like Rudy Giuliani and Mark Meadows, have already been booked into Fulton County Jail. Notably, Harrison Floyd, a co-defendant and leader of Black Voices for Trump, surrendered without a bail agreement and is currently in custody.
Amid the legal proceedings, a Georgia judge granted a speedy trial request for another co-defendant, Kenneth Chesebro. Chesebro's trial is scheduled to commence on 23 October.
Shortly before his surrender, Trump replaced his defence lawyer Drew Findling with experienced Atlanta criminal defence attorney Steven Sadow. This switch signals a strategic manoeuvre as the legal battle escalates.
Related posts