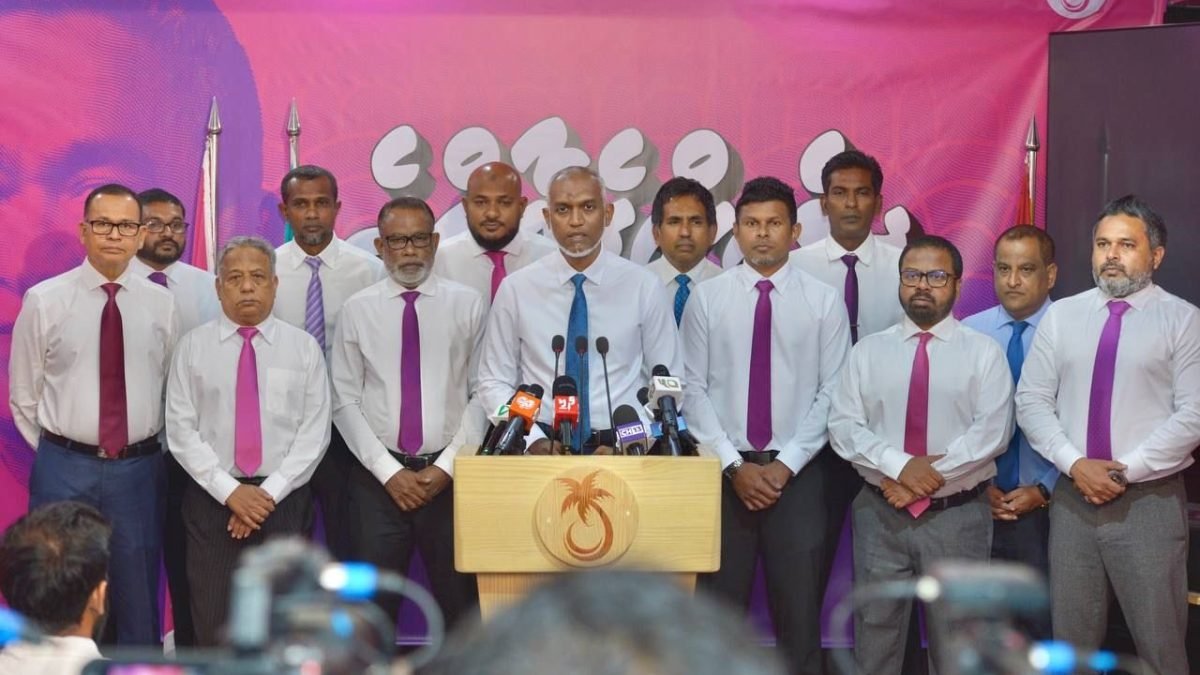 The leadership of the Progressive Party of Maldives (PPM) and the People's National Congress (PNC) coalition has officially endorsed Dr Mohamed Muizzu as their presidential candidate.
Speaking to the press, PNC President Abdul Raheem stated that the two parties stand united behind Muizzu, marking the commencement of their election campaign.
Addressing the recent internal discord regarding the candidate selection process, Abdul Raheem clarified, "We stand here together because there are no rifts. This should serve as evidence of our unity."
He emphasised that recent differences of opinion within the coalition were indicative of a healthy democratic process and assured that these disagreements would not lead to divisions within the coalition.
He explained that senate members who opposed the former President Abdulla Yameen's call for an election boycott were acting in pursuit of justice for Yameen.
"We (the senate), did not oppose him. Our unity is intact, and we do not harbour any disagreements," Abdul Raheem asserted.
During the press conference, journalists inquired about the internal divisions within the party and the delayed endorsement of Muizzu. In response, Abdul Raheem explained that the entire coalition, from grassroots to leadership, was actively engaged in efforts to ensure the release of President Yameen from prison.
Every action, whether participating in the elections to effect a change in government or considering a boycott, was ultimately aimed at securing Yameen's freedom, he said.
He further elaborated that due to the challenges in communication with Yameen, who is currently serving an 11-year prison sentence, the process of confirming his stance took longer than anticipated.
Muizzu, the presidential candidate of the PPM/PNC coalition, reiterated his commitment to prioritise the liberation of former President Yameen upon assuming office. However, his emphasis on this goal sparked criticism from online users who believed that public welfare should be prioritised over the concerns of a single individual.
Muizzu reassured his supporters and the media that his campaign is aligned with Yameen's vision.
Muizzu shared that following the confirmation of his candidacy, he contacted the incumbent President Ibrahim Mohamed Solih and appealed for Yameen to be transferred to house arrest. Muizzu indicated that the government's intention was to prevent Yameen from contesting and that, once that objective was achieved, he requested President Solih to consider the distress faced by Yameen's family and transfer him to his residence.
Muizzu emphasised that despite him holding the party ticket, it is crucial to acknowledge the ticket truly belonged to President Yameen.
During the press conference, individual members of the PPM leadership who had initially criticized the selection of Muizzu as the candidate provided individual explanations, clarifying that their decisions were motivated by their commitment to President Yameen.
Abdul Raheem reaffirmed the coalition's commitment to unity and expressed confidence that it would evolve into the largest and most cohesive coalition.
Related posts