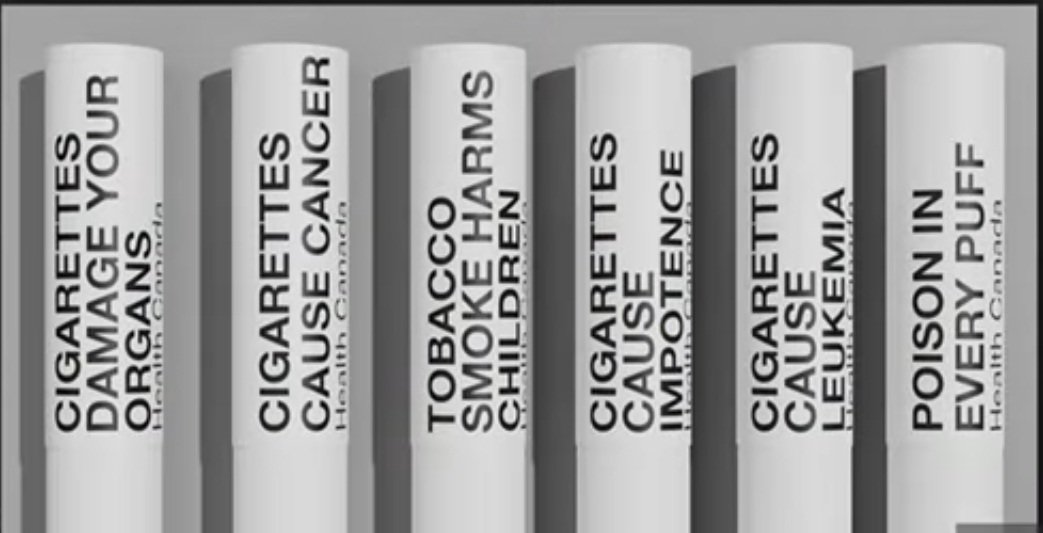 Canada became the first nation to print health warnings directly on individual cigarettes. The amended regulations, which took effect on Tuesday, will see cigarettes adorned with phrases like "Cigarettes cause cancer" and "Poison in every puff," printed in both English and French languages. The initiative is part of Canada's effort to reduce tobacco use to less than 5% by 2035.
By July 2024, all king-size cigarettes sold in the country must carry these warnings. Further, by April 2025, all regular-size cigarettes and small cigars with tipping paper and tubes must also include graphic reminders of smoking hazards.
The warnings will be strategically placed near the filter, making them impossible for smokers to ignore. The labels will address the harmful effects of smoking on various aspects of health, including children, organs, and potential links to impotence and leukaemia. Health Canada has asserted that these updated regulations will make it extremely difficult for smokers to avoid health warnings on tobacco products.
The decision to add warning labels to cigarettes came after a 75-day public consultation period initiated the previous year. The move garnered widespread support from health advocates and the public, who see it as a crucial tool in the battle against smoking-related illnesses and deaths.
Canada's latest move to print health warnings directly on individual cigarettes is part of a long-standing commitment to combat tobacco use. Since 1989, the country has required warning labels on cigarette packages, and in 2000, it took a pioneering step by adopting pictorial warning requirements. Now, with the introduction of warnings on individual cigarettes, Canada takes a leading role in the fight against smoking-related illnesses.
Health Canada has ambitious plans to further expand warnings and increase anti-smoking messages' impact. In addition to printing warnings on the outside of cigarette packages, the authorities are considering adding extra labels inside the packages and introducing new external warning messages. This comprehensive approach ensures that smokers are confronted with smoking health risks at every stage of their interaction with tobacco products.
Dr Robert Schwartz from Toronto University noted that such warnings might serve as a wake-up call for some smokers, motivating them to quit, while also acting as a deterrent for young individuals considering smoking. Research has shown that graphic and impactful warnings on tobacco products can significantly influence smokers' behaviour and discourage initiation among non-smokers.
Drawing inspiration from other countries' efforts to reduce tobacco use, Dr Schwartz points to New Zealand's introduction of very low-nicotine cigarettes as an example of innovative measures to limit smoking.
Despite past initiatives, tobacco use remains a persistent health issue in Canada, taking the lives of approximately 48,000 Canadians every year. Public Services Minister Jean-Yves Duclos acknowledges that tobacco use continues to be one of Canada's most significant public health problems.
The new warning labels have received widespread support from health organisations and advocates. The Canadian Cancer Society, Canada's Heart and Stroke Foundation, and the Canadian Lung Association express hope that the new measures will discourage people, especially the youth, from picking up smoking.
Cigarette smoking is widely recognised as a major risk factor for lung cancer, heart disease, and stroke.
As of 2021, the rate of smokers aged 15 years or older in Canada stood at approximately 10%, according to the national tobacco and nicotine survey. While this figure represents a decline from previous years, it underscores the importance of ongoing efforts to combat smoking. Additionally, the survey revealed a rise in electronic cigarette use.
Related posts