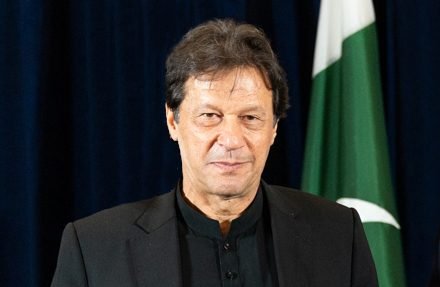 Former Pakistan Prime Minister Imran Khan has been handed a three-year jail sentence after being found guilty of corruption charges. The verdict, delivered by Judge Humayun Dilawar, focused on Khan's failure to declare money earned from selling gifts received during his time in office.
Denying the allegations, Imran Khan has announced his plans to appeal the ruling and urged his supporters not to remain silent.
The 70-year-old former cricketer-turned-politician was elected as Pakistan's Prime Minister in 2018 but faced a no-confidence vote and was ousted from power last year due to conflicts with the military.
Since his removal, Khan has been entangled in over 100 cases, which he claims are politically motivated.
The recent verdict focused specifically on charges related to the incorrect declaration of gifts and their alleged proceeds from foreign dignitaries. The gifts, valued at over 140 million Pakistani rupees, included Rolex watches, a ring, and cufflinks.
Khan was arrested from his Lahore home after the verdict.
The verdict against Imran Khan has sparked intense reactions from various quarters. His barrister, Gohar Khan, called the decision a murder of justice. Police officers were stationed outside Khan's home in Lahore after the court's ruling to ensure law and order.
Imran Khan is now set to be sent to Adyala jail, located in Rawalpindi, south of Islamabad, to serve his three-year sentence. Prior to his recent arrest, he evaded custody for several months, with his supporters clashing with the police on some occasions.
In May, Khan was arrested for failing to appear in court as requested. However, the arrest was later declared illegal, leading to his release.
Numerous senior officials have left Imran Khan's party. Thousands of his supporters have been arrested and accused of protests following his arrest. However, the former Prime Minister denies advocating violence and asserts that his party has a history of peaceful protests.
Pakistan's history has been marked by the military's significant involvement in politics, with instances of coups and behind-the-scenes influence shaping the country's governance. Analysts have speculated that the military may have played a role in Imran Khan's election victory in 2018. However, since becoming an opposition figure, Khan has become increasingly critical of the army, challenging its influence on the political landscape.
If Khan's conviction is upheld and he remains disqualified from standing for office, it could have significant implications for his political career. This could bar him from public office for life.
Pakistan's parliament is scheduled to dissolve on 9 August. A caretaker government will then take over until elections are held, constitutionally due by November. This transitional period will shape the political landscape. The absence of Imran Khan's party from the electoral process could have a substantial impact on the nation's political dynamics.
Related posts