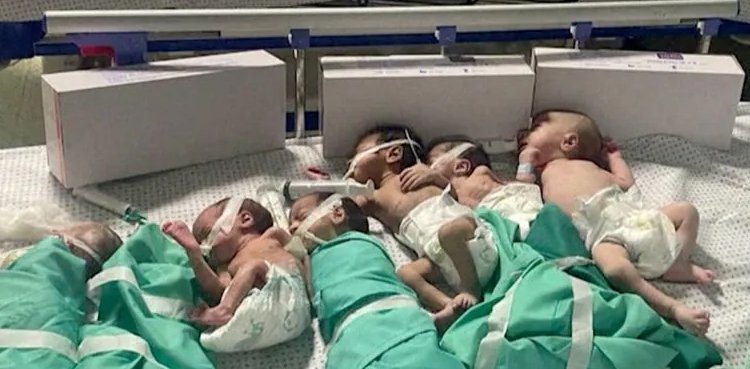 Israeli tanks have surrounded the Indonesian hospital in Gaza, where at least 12 people have been killed in direct Israeli shelling since Monday morning . The Israeli offensive adds to the rising death toll in the besieged enclave since Israeli bombardment began on 7 October, with over 13,000 reported deaths in Gaza, compared to about 1,200 in Israel.
About 28 premature Palestinian babies from al-Shifa Hospital in Gaza were evacuated to Egypt for further medical aid. Reports indicate heavy fighting around the Indonesian hospital in north Gaza, with Israeli tanks visible and 12 reported dead, including doctors and patients. Indonesia's foreign minister condemned the reported attack on the Indonesian hospital, calling it a clear violation of international humanitarian laws.
Israeli claims of a Hamas tunnel at al-Shifa Hospital were dismissed by Gaza's health ministry director as a "pure lie."
Yemen's Houthi rebels have allegedly seized an Israeli-linked cargo ship in the Red Sea, taking two dozen crew members hostage.
Iran dismissed Israel's accusations regarding the Israeli cargo ship seized by Yemen's Houthi rebels. Calling the accusations "invalid," Iran refutes any involvement in the incident. The rebels claim the ship is Israeli, while Israel describes the event as an "Iranian act of terrorism" with potentially severe consequences for international maritime security.
The Israeli Knesset approved legislation on 8 November, banning the consumption of "terrorist publications." The new law makes the consumption of material from a "terrorist organisation" punishable by up to one year's imprisonment. Human rights advocates, including 7amleh, the Arab Centre for Social Media Advancement, warn that this legislation will affect freedoms and rights, leading to fear and intimidation. The law is also criticised for increasing surveillance on Arab Palestinian citizens, infringing on privacy.
Meanwhile, dozens of trucks entered Gaza from Egypt carrying equipment from Jordan to set up a field hospital in Khan Younis within 48 hours.
Negotiations with Hamas are reportedly ongoing. There are suggestions that more hostage releases are in the offing.
Israel's military released security camera footage showing hostages being brought into al-Shifa Hospital in Gaza City on 7 October. However, the footage has not been independently verified, raising questions about the narrative surrounding the events.
Russian Foreign Minister Sergei Lavrov is set to host a crucial meeting in Moscow on Tuesday. Foreign ministers from the Arab League and the Organisation of Islamic Cooperation (OIC) will convene to discuss the rapidly deteriorating situation amid the continued Israeli offensive in Gaza. The meeting is expected to address diplomatic avenues to de-escalate tensions.
Related posts