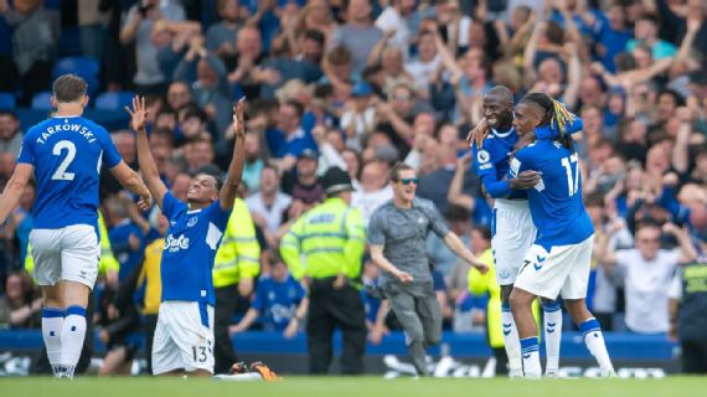 On a crucial day that had huge implications at the bottom end of the Premier League table, Everton ensured their 69-year stay in the top flight by defeating Bournemouth 1-nil on Sunday, dealing a blow to Leicester City in the process.
Leicester, just seven years removed from their historic title triumph, were left devastated despite their own 2-1 victory against West Ham. Everton's win sealed their relegation.
Additionally, Leeds United's three-season Premier League stint came to an end after a resounding 4-1 defeat by Tottenham. This confirms that they will join Leicester in the Championship.
Leading up to their decisive match against Bournemouth, Everton faced challenges in the attacking department, missing talismanic striker Dominic Calvert-Lewin. Despite creating openings, Everton's attempts were thwarted by Bournemouth goalkeeper Mark Travers. Travers produced a stunning save to deny Idrissa Gueye midway through the first half.
Bournemouth, having secured their survival weeks ago, refused to roll over for the home side. Marcos Senesi came agonizingly close to scoring, while Everton defender Yerry Mina made a desperate last-ditch challenge to block Dominic Solanke's goal-bound effort.
Crucial win
However, it was Everton's midfielder Abdoulaye Doucoure who emerged as the hero of the day. His stunning right-footed shot from 20 yards found the back of the net, sealing the crucial win against Bournemouth.
While the relief among Everton players and fans was palpable, there remained an anxious half-hour to see out. In the final additional 10 minutes, Everton goalkeeper Jordan Pickford produced a spectacular save during the additional ten minutes of added time, denying Bournemouth an equalizer and securing Everton's survival.
As Everton celebrated their remarkable escape, the final day of the Premier League season brought contrasting emotions for Leicester and Leeds. Leicester's relegation was a bitter blow for a club that had experienced the pinnacle of success not too long ago, while Leeds' return to the Championship after three seasons in the top flight marked the end of their Premier League journey for now.
This marked the third time Everton has executed a remarkable "Great Escape" on the final day of a Premier League season, adding to their similar achievements in 1994 and 1998. While Everton has flirted with relegation in the past, managing to avoid last-day drama last season with a win in their penultimate game, the briefness of their celebrations this time reflects the dissatisfaction among the club's supporters who have had enough of underachievement.
With the dust settling on another gripping Premier League campaign, Everton can reflect on their preserved top-flight status. Meanwhile, Leicester and Leeds must regroup, face the reality of the Championship, and strive to make their way back to the Premier League in the future.
Related posts