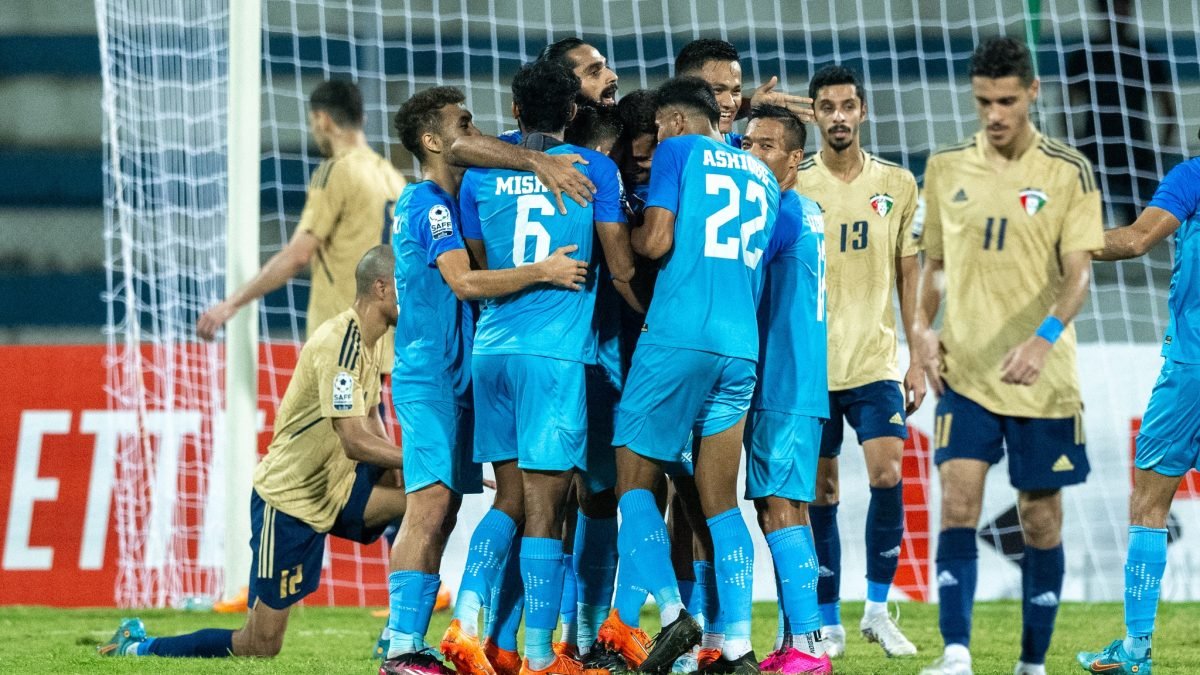 Kuwait emerged as the winners of Group A after securing a 1-1 draw against India in an intense and action-packed match in the SAFF Championship on Tuesday.
The game kicked off with Kuwait displaying their attacking prowess, as Mohamed Abdullah took a shot from the edge of the box. Unfortunately for Kuwait, his attempt narrowly missed the target, denying them an early lead. India, on the other hand, had a promising opportunity early in the first half when Anwar Ali connected with Mahesh Singh's corner kick. However, Kuwait's defenders managed to save the ball from finding the back of the net.
It was Captain Sunil Chhetri who eventually broke the deadlock, scoring a goal for India just before the end of the first half. As the ball sailed into the penalty area from a corner kick, Chhetri skilfully directed it into the corner of the net, giving India the lead.
The second half witnessed a surge in fouls, and both teams struggled to create scoring chances. Moreover, the Indian players resorted to various time-wasting tactics, causing significant delays in the match. Despite their defensive efforts, both teams failed to find the back of the net until the final moments of the game.
In extra time, Kuwait managed to secure the equaliser, courtesy of a well-executed header by India defender Anwar, who inadvertently directed the ball into his own net from substitute Abdullah Al-Buluoshi's cross.
Ashfaq, who is absent from the squad, has been the leading scorer in the SAFF Championship with an impressive tally of 23 goals. Chhetri's goal in this match brings his total to 23 goals as well, equalling Ashfaqs record. Notably, Chhetri also scored a remarkable three goals against Pakistan in the first match and found the net once against Nepal in the second match of the tournament.
With this draw, Kuwait moved up to the top of Group A, highlighting their strong performance in the SAFF Championship. The competition among the teams remains fierce, and both Kuwait and India will be looking to build on their performances as the tournament progresses.
Related posts