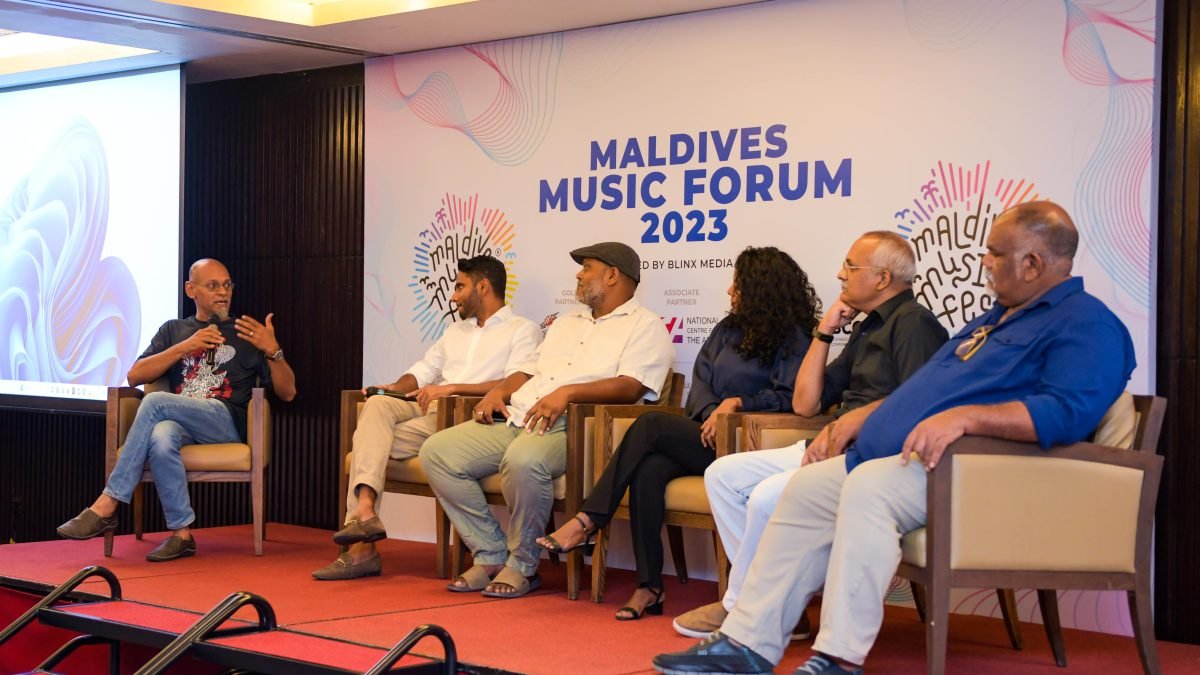 The Maldives Music Forum, an event that brings together experts from the Maldivian music industry, was held at Hotel Jen on Tuesday. Organised and hosted by Blinx Media in conjunction with the upcoming Maldives Music Fest, the forum attracted a diverse range of industry stakeholders, including emerging and seasoned musicians, producers, event organisers, and individuals involved in media, marketing, and promotion.
Led by a panel of experienced creatives, the first session of the forum focused on engaging discussions about the current state and future prospects of the music industry in the Maldives. The panel consisted of Zain Shaheed, the General Secretary of Fannu Gathering; Bell, Vice-president of the Musicians Union of Maldives; Fathimath Fezu, rhythm guitarist and vocalist of Detune Band; Mohamed Ikram, a composer and producer; and Mohamed Niyaz (Tedry), a renowned filmmaker and producer. The panel was moderated by Ahmed Faseeh (Fasy), widely known as the vocalist and guitarist of Fasylive.
The panellists provided valuable insights into their respective fields, reflecting on the past and highlighting significant changes that have occurred over time. They also shared their perspectives on potential areas of growth. A crucial point emphasised was the integration of music with other art forms, such as visually captivating elements, to enhance its market appeal, and noted that the approach has proven effective in expanding the reach of local music and gaining appreciation from larger audiences.
Furthermore, the panellists stressed the need for artists to actively share their creative ideas instead of waiting for the "perfect" moment. They encouraged artists to proactively engage in the industry, acknowledging the increasing demand for them to showcase their work assertively.
In addition to the panellists, members of the audience participated by expressing their concerns and sharing their insights on the industry. Their eagerness to collaborate and support one another was evident, recognising the potential to collectively enrich the industry.
Blinx Media's highly anticipated Maldives Music Fest is a two-day event organised by the marketing and advertising agency in association with various key players from the business sector. The festival is scheduled to take place on June 15th and 16th at Olympus Theatre. This festival will feature performances by over 10 popular musical acts, including Zakitte, Mezzo, Skyrock, Raveo, TeaforTwo, Mira, Zara, Haisham, Traphic Jam, and Fasylive.
The event programme consists of two parts. The main event will run from 8:30 PM to 11:45 PM inside the Olympus Theatre. Additionally, the backstage area will be open to all visitors from 4:00 PM to 6:00 PM, where they can explore a wide array of captivating handicrafts and arts, and indulge in a variety of food and beverages.
Related posts