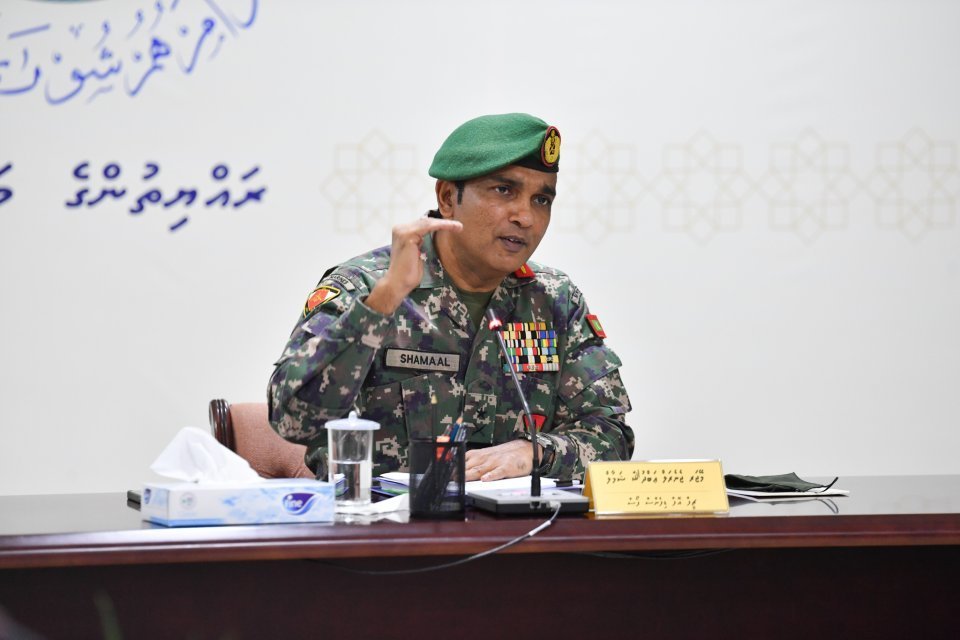 In an exclusive interview with the state media outlet PSM, Chief of Defence Force (CDF) Lt Gen Abdulla Shamaal has unequivocally affirmed the Maldives National Defence Force (MNDF)'s complete sovereignty and control over the Maldives' territory and assets, dispelling claims of foreign military presence and influence within the country.
In response to allegations of foreign involvement, particularly from India, in Maldivian affairs, Lt Gen Shamaal assured the nation that the MNDF maintains absolute authority over all regions and resources. He emphasised that no military bases in the Maldives are under foreign control.
Highlighting the foreign and defence policy of the Maldivian government, Shamaal revealed that the country actively participates in various activities and exercises with the armies of friendly nations. He stressed that this policy had been consistently upheld by previous administrations and is aimed at enhancing and fortifying the capabilities of the MNDF.
Responding to allegations of a significant Indian troop presence, Shamaal clarified that the Indian government's contributions to the Maldives come in the form of assistance, including two helicopters, a Dornier aircraft, and coast guard vessels. These assets have been donated to the Maldives at the request of the government and are primarily employed for patrolling the nation's waters and conducting medical evacuations, he said.
"All operations involving these assets are ordered and controlled by the MNDF," Lt. Gen. Shamaal assured.
Regarding claims of Indian involvement in Maldivian military bases, Shamaal firmly stated, "There will be no military base without the full control of MNDF."
The CDF also addressed allegations surrounding the construction of an Indian-aided coast guard port in Uthuru Thilafalhu (UTF). Shamaal categorically denied these claims, reiterating the MNDF's unwavering commitment to preserving the independence and sovereignty of the Maldives.
Related posts