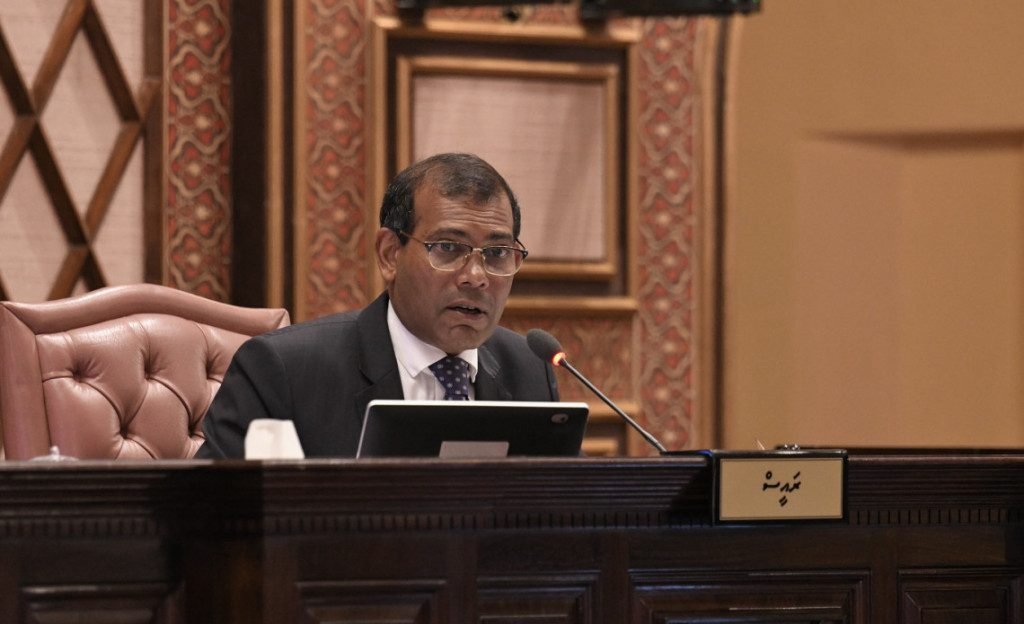 In the ongoing disagreements among MPs on how to proceed with the no-confidence motion against Attorney General Ibrahim Riffath, former President and Parliament Speaker Mohamed Nasheed has urged Parliament to seek advice from the Supreme Court to resolve the impasse.
The no-confidence motion was scheduled for today's sitting, with the General Committee of the Parliament allowing the Attorney General a 30-minute window to present his defence. However, Riffath chose not to appear in person and instead submitted his defense in writing. This decision has raised questions regarding the continuity of the case, as Nasheed highlighted that the Constitution stipulates that a minister should be given a fair opportunity to address no-confidence motions.
Responding to Nasheed's concerns, members aligned with the government raised points of order, suggesting that the issue should be moved forward after consulting the majority leader and minority leader of the parliament. Considering this point of order, Speaker Nasheed adjourned the sitting for further discussion.
Following a half-hour adjournment, the Speaker convened a meeting with political party leaders to deliberate on how to proceed with the matter. Unfortunately, the discussions failed to yield a conclusive solution. While the majority Maldivian Democratic Party (MDP) believes that the Attorney General has the constitutional right to respond in writing, other parties, excluding the MDP, insist that he should appear in person to address the allegations.
Recognising the need to avoid any potential constitutional violations, Nasheed emphasised the importance of seeking legal advice. He stated, "In these kinds of matters, I have to seek advice… I want the Supreme Court to decide on these kinds of legal issues."
However, according to Article 95 of the Constitution, the parliament can only request the Supreme Court's advisory opinion if a resolution passed by Parliament initiates the process.
Related posts