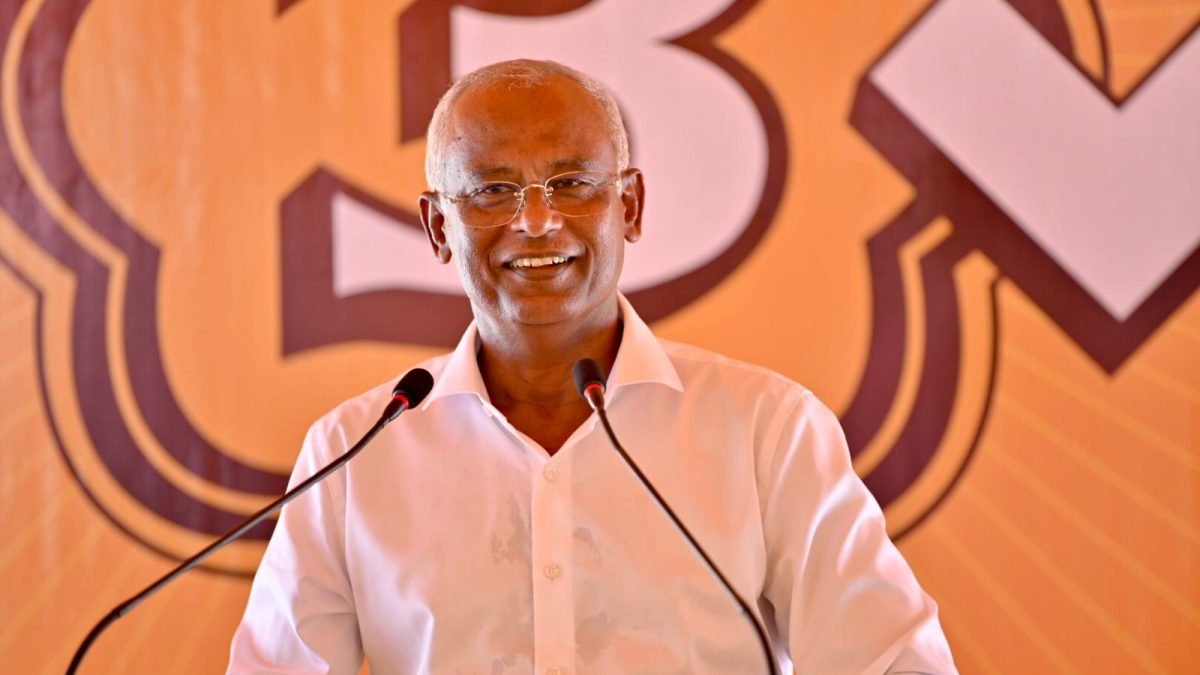 The incumbent President and candidate of the Maldivian Democratic Party (MDP)-led coalition, Ibrahim Mohamed Solih, has strongly criticised his opponent, Dr Mohamed Muizzu, from the Progressive Party of Maldives (PPM)/People's National Congress (PNC) alliance, connecting him to corruption that took place during the tenure of former President Abdulla Yameen Abdul Gayoom.
Addressing supporters in Hirilandhoo of Thaa Atoll, President Solih alleged that if Muizzu were to assume power, it would resemble the tenure of President Yameen, where corrupt politicians, including Muizzu, allegedly siphoned off substantial portions of funds allocated for developmental projects.
Criticising his predecessor's lack of attention towards island development, President Solih accused Muizzu, who served as housing minister in the previous administration, of having the capability to do nothing more than "diverting funds for personal gain."
In Vilufushi of Thaa Atoll, President Solih accused Muizzu of misleading his colleagues into endorsing his presidential candidacy, asserting that someone of such character should not be chosen to lead the country.
Echoing the allegations made by the PPM's then-potential replacement candidate, Dr Mohamed Waheed Hassan, regarding the "theft" of PPM's ticket by its smaller partner PNC, President Solih reiterated these criticisms concerning the dishonest and misleading actions within the PPM/PNC coalition's pursuit of the presidency.
He advised voters to take these actions into account and implored them not to vote for someone who allegedly "stole" the ticket from his closest allies.
He also urged voters to carefully consider the candidates' experiences and how their platforms and policies would impact their respective islands, atolls, and the entire country.
In response to President Solih's criticism, Dr Mohamed Shaheem Ali Saeed, the running mate of former President Yameen in his unsuccessful re-election bid in 2018, stated that President Solih, who has refrained from criticising opponents, is doing so now because he sees Muizzu gaining traction.
Speaking at a rally in Thinadhoo of Gaafu Dhaalu Atoll, he said it was out-of-character for President Solih to resort to such campaign tactics and alleged that his words were an indication of MDP foreshadowing defeat in the September 9 presidential elections.
Shaheem, a former Islamic minister, also compared President Solih to a cattle herder, seemingly attempting to belittle the president by portraying him as uneducated. His remarks have been met with strong criticism from members of the public on social media platforms, who describe them as disrespectful towards all the prophets of Islam, including Prophet Muhammad (PBUH), as they were all known to be cattle herders at some point during their lives.
With the presidential elections just under two weeks away, campaigning has intensified, with candidates trading strong criticisms throughout the campaign trail.
Related posts