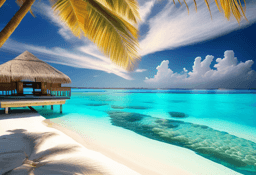 The Maldives and other countries in South Asia are in the grip of record-breaking heatwaves, with temperatures soaring above 40 degrees Celsius in some areas.
The Maldives Meteorological Service (MET Office) reports that temperatures have risen to over 33 degrees Celsius in some parts of the country, surpassing the 29-year average record of 28.9 degrees Celsius. The MET Office has advised people to take precautions and protect themselves from the intense heat.
Cities in India, Pakistan, and Bangladesh are also experiencing extreme heat, with temperatures expected to reach a maximum of over 40 degrees Celsius in some areas.
While the entire Maldives is expected to experience high temperatures, the north of the country is likely to be the hottest region. In Hanimaadhoo, located in the northernmost atoll of the Maldives, the average April temperature over the past 29 years has been 29.7 degrees Celsius.
The MET Office has warned that high air humidity will make it feel even hotter than it actually is. To protect against heat-related illnesses, the authorities have advised the public to avoid spending too much time outdoors during the hottest hours of the day, drink plenty of water to stay hydrated, and wear sunscreen, hats, and loose clothing to protect against the sun's harmful rays.
As the Maldives braces for the heatwave, visitors are reminded to take extra precautions to stay safe and healthy during their stay. With the right preparations and precautions, however, everyone can still enjoy the natural beauty and attractions that make the Maldives a top destination for travellers.
The heatwave is a reminder of the urgent need to address climate change and take action to reduce global greenhouse gas emissions. The Intergovernmental Panel on Climate Change (IPCC) has warned that heatwaves are becoming more frequent and severe due to climate change, and that this trend is likely to continue in the coming decades. As the region continues to experience extreme heat, IPCC urges individuals, communities, and governments to take steps to adapt and build resilience to the impacts of climate change.
Related posts