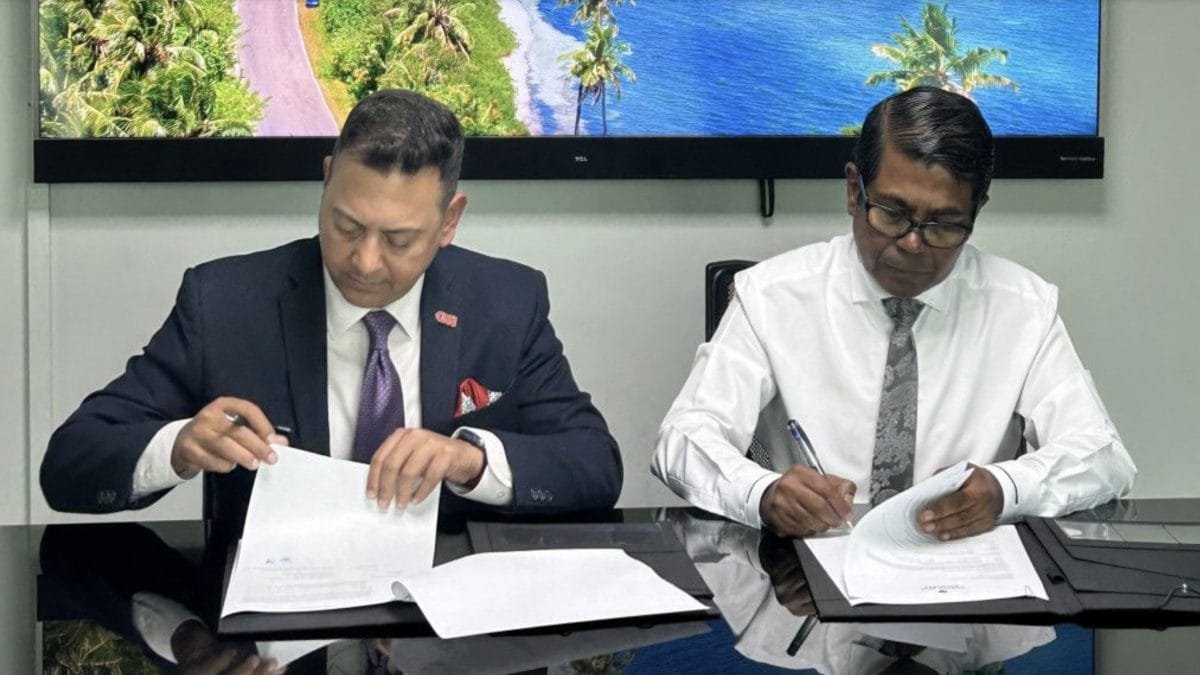 The Maldives Marketing & Public Relations Corporation (MMPRC/Visit Maldives) has signed an advertising and brand-content partnership agreement with CNN International to promote sustainable tourism initiatives. The signing ceremony took place on February 28, at the MMPRC headquarters. MMPRC Chief Executive Officer and Managing Director Thoyyib Mohamed and CNN International Commercial Sales Director Abhijeet Dhar signed the agreement. The worldwide campaign will run until May 2023.
The campaign titled "The Journey Matters in 2023," will showcase local and grassroots projects that aim to preserve the natural beauty and environmental biodiversity of the Maldivian islands. CNN will highlight how the Maldives caters to environmentally-conscious travellers, focusing on resort interiors, volunteer-based conservation programs, and community appreciation. The campaign aims to showcase the Maldives as a leader in sustainable tourism and cultural preservation.
Currently, the World Bank is partnering with the Maldivian Government to assist with waste reduction, particularly plastic. Collaborative efforts are underway to compost high-volume waste generated throughout the country through various projects.
CEO and MD Thoyyib stated that the Maldives has positioned itself as a prime example of sustainable tourism and that it is crucial to promote and highlight locals leading sustainable initiatives on a global scale. Mr. Abhijeet echoed these remarks, praising the Maldives for its innovative approaches and indigenous techniques in preserving its natural beauty. He also emphasised that CNN's compelling storytelling and engaging branded content can play a pivotal role in showcasing the Maldives as a sustainable destination for conscious travellers.
Prominent Initiatives
The Maldivian Government actively encourages collaboration between businesses in the tourism sector and independent organisations, aiming for sustainability. Several prominent initiatives are currently taking place in the Maldives, including Green Fins, Manta Trust, Olive Ridley Project, and Parley.
During the campaign, CNN will share curated content across various channels, including digital platforms, broadcast media, written articles, videos, commercials, and social media posts, with the goal of reaching a global audience. This significant campaign marks the fourth collaboration between MMPRC and CNN to promote the Maldives as a destination. Previous campaigns were launched to maintain the destination's presence in the global market during the Covid-19 pandemic. CNN's immersive storytelling approaches continue to provide international travelers with a comprehensive overview of the Maldives.
MMPRC is currently running a separate social media campaign on WeChat and Weibo, targeting the Chinese market. This campaign, part of a series of promotional undertakings that began in March and will continue through May, aims to capitalize on the importance of these social media platforms in the Chinese market, particularly after the reopening of borders.
Related posts