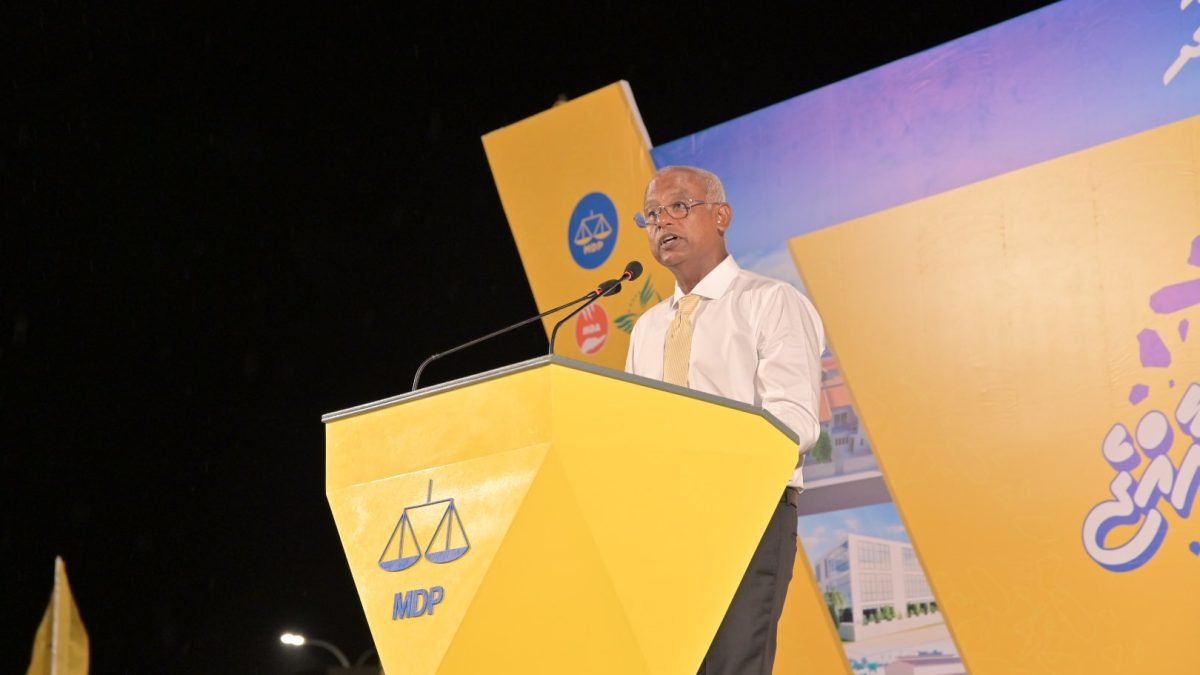 This is undoubtedly a moment where Addu will deliver a historic first round 'signed and sealed' victory for him and the Maldivian Democratic Party (MDP) in the presidential election on Saturday, incumbent President Ibrahim Mohamed Solih has said.
Speaking at the 'Happy Addu' rally in Hithadhoo, Solih remarked that the coming Saturday will be a historic day for the city.
"Addu's long journey is coming to [fruition with] a happy and peaceful country," he said.
Solih said that Addu has a very historic, and consistent, contribution to democracy in the Maldives and that the results are now evident, noting that the development the people had been asking for was being fulfilled.
"We are going to finish this. We are seeing the results of our efforts. We are experiencing the shade of the planted tree [just before] bearing fruit. Our next term is the season when Addu will bear fruit," he said.
Solih said attention will be given towards developing Addu as a major hub.
"In my five years I worked to implement the manifesto. Today, the beautiful scenery [result] is evident across Addu. Land has been reclaimed, [land for] three resorts have been reclaimed, roads are being built. A permanent solution has been found for Shangri-La. Development of the Gan Airport only just got underway [in my administration]. Hankede is on the cusp development," Solih said.
If voted in for a second term, Solih has pledged for additional developments in his 'Happy Addu' manifesto. If elected, he has pledged to Addu to complete all roads to modern standards, develop 1,000 housing units, facilitate housing loans, create modern sewerage systems, designate and develop an industrial zone, match State Trading Organisation (STO)'s prices for aggregate and river sand with those in Malé, develop the city as a modern business hub, promote eco-tourism, build a racetrack, construct an indoor sports complex, further develop the hospital, establish a picnic island, set up a center for marine studies, establish a center for disabilities, create parks and outdoor gyms, provide more opportunities for higher education, increase the capacity of the Maldives Industrial Fisheries Company (MIFCO), and more.
Solih said he is working with a vision to develop Addu with the aim of providing a prosperous life for all and make the people's long-standing dream a reality.
"Saturday is a very important vote. It is the day to decide whether we will continue with what we have started or whether we will descend into chaos. It is very clear that Addu will end this in one round," President Solih said.
Related posts