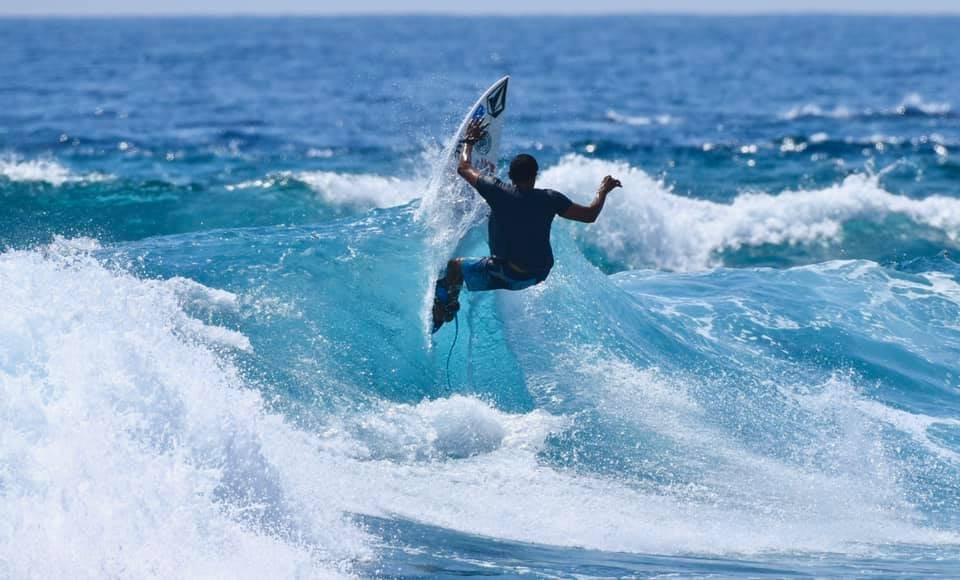 Hussain Areef (Ibu) has emerged victorious in the men's division of the Dhivehi Surf League's 'Gamaadhookolhu' event after a hard-fought final against Hood Ahmed (Hoobz). 'Gamaadhookolhu' held at Himmafush, Kaafu Atoll, was the third of the Dhivehi Surf League's five events.
The showdown between Ibu and Hoobz was a highly anticipated rematch from last year's Gamaadhookolhu event, where they also faced off in the finals.
Ibu's triumph came with an impressive total of 15.66 points. He obtained scores of 7.83 points in the first and fourth waves, solidifying his dominance. Despite a valiant effort, Hoobz secured second place with a total of 11.73 points, with his highest scores being 5.50 and 6.23 points.
Expressing his admiration for Hoobz, Ibu acknowledged the fierce competition, stating "Hoobz is always a very tough competitor. You have to surf very smartly with Hoobz. He is very strong and his manoeuvres are very strong. He has the highest score in the tournament. So you have to give 110 percent."
Ibu's path to victory
Ibu's journey to the final was not an easy one, as he faced a challenging semifinal battle against Adam Mueen Ibrahim. With scores of 8.33 and 7.67 points, totaling 16 points, Ibu secured his place in the final. Mueen, on the other hand, earned 4.83 and 6.17 points, finishing with a total of 11 points.
In the second semifinal heat, Hoobz showcased his remarkable skills, scoring 17.17 points against Ismail Miglal, also known as Kuda Issey. This score stood as the highest in a heat throughout the entire tournament. Hoobz achieved nine points for his first wave and 8.17 points for his third, with the former being the highest score for a single wave in the tournament. Kuda Issey obtained a total of 7.37 points.
Unfortunately, reigning Dhivehi Surf League champion Ammadey had to withdraw from the tournament during the quarterfinals due to an injury sustained in the fifth heat. Despite this setback, Ammadey has his sights set on the upcoming Thulusdhoo Asian Surfing Championship. Having made significant contributions to the Maldives national team, Ammadey remains an exciting prospect to watch in the next tournament.
Other notable results from the quarterfinals include Ibu's narrow victory over Ammadey's brother, former national team surfer Hassan Nasih (Chika), with a mere 1.33-point difference. Hoobz defeated Ibrahim Aiman, while Kuda Issey emerged victorious against Azlee Naseem, completing the quarter final lineup.
Related posts