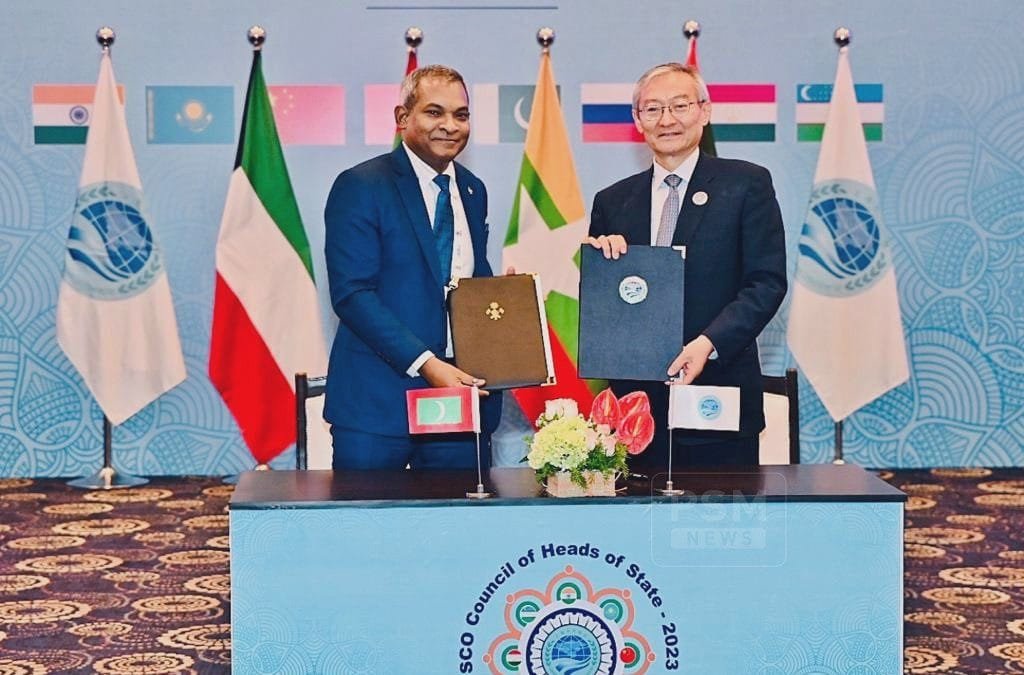 The Maldives has officially become a Dialogue Partner of the Shanghai Cooperation Organisation (SCO). The signing of the Memorandum of Understanding took place at a special ceremony held on the sidelines of the SCO Council of Foreign Ministers, which was held from 4-5 May in Goa, India.
Ibrahim Shaheeb, the High Commissioner of Maldives to India, signed the agreement on behalf of the Maldivian Government. Upon signing the agreement, High Commissioner Shaheeb expressed the Maldives' cmmitment to be an active and responsible Dialogue Partner of the organisation, which embraces the values of mutual trust, mutual benefit, equality, consultation, respect for cultural diversity, and the pursuit of common development.
Since the SCO Member States endorsed the decision to accord the Maldives the status of a Dialogue Partner at the 22nd Meeting of the Council of Heads of States of the SCO held in Samarkand, Uzbekistan, from 15-16 September 2022, the Maldives has received various capacity-building and training opportunities open to Dialogue Partners, the Foreign Ministry said in a statement.
"The Maldives will continue to work closely with the SCO and its Member States on a wide range of issues, including trade, investment, health, environment, climate change, science, and technology. The formalisation of the Dialogue Partner status of the Maldives is also a step forward in the government's vision to build stronger diplomatic and economic ties within Asia, especially with emerging economies" the statement said.
The SCO, established in June 2001, is a group of 8 Member States, 4 Observer States, and 14 Dialogue Partners. India is the current chair of the SCO.
Related posts