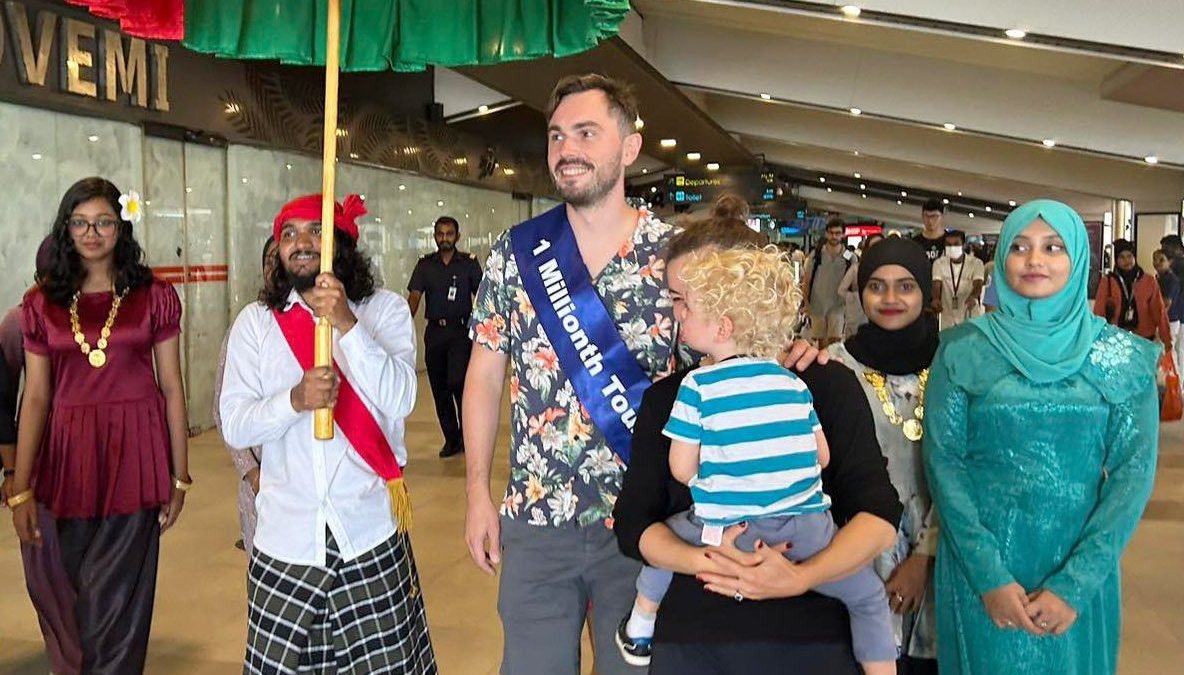 The Maldives welcomed its one-millionth tourist of the year in a grand ceremony held at Velana International Airport (VIA) on Sunday. The occasion marks a milestone for the popular tourist destination, which has exceeded its target for tourist arrivals for the current year.
A family of three, hailing from the United Kingdom and arriving via British Airways, received a heartwarming reception from locals donning traditional attire. The visitors, Anto Pavlo, his wife, and their child, were greeted by government officials, including Tourism Minister Dr Abdulla Mausoom, Maldives Marketing and Public Relations Corporation (MMPRC) Managing Director Thoyyib Mohammed, as well as representatives from the Maldives Airports Company Limited (MACL) and industry officials.
The lucky family will stay at the renowned Vakkaru Resort in the scenic Baa Atoll. Pavlo, originally from Russia, expressed his heartfelt gratitude and praised the warm welcome extended to him and his family. He also mentioned that their trip had long been a cherished dream, and the unexpected ceremony had made their experience all the more memorable. The family plans to enjoy a week-long vacation at the luxurious resort.
Earlier this year, the Maldivian government set an ambitious target of 1.9 million tourist arrivals for the year. Despite the ongoing global challenges, the country has made impressive strides in attracting international visitors. Minister Mausoom addressed reporters at the event and emphasised that while tourist arrivals were important, the government's primary focus for this year has been to ensure maximum benefits for the state and its citizens from the thriving tourism industry. He highlighted the economic contributions made by the industry, including state revenue, service charges, and tips earned by workers, along with the positive impact on the wider economy and local communities across the atolls.
Russia and the United Kingdom have emerged as leading contributors to the Maldives' tourism sector, with both countries among the top three sources of visitors this year. Currently, 38 inbound flights bring an average of 5,102 tourists to the Maldives daily, showcasing the sustained appeal of the archipelago's pristine beaches, crystal-clear waters, and world-class resorts.
Related posts