In a surprising turn of events, three opposition political parties —The Democrats, Jumhooree Party (JP), and the Maldivian National Party (MNP)—have expressed their intention to unite and nominate a single candidate for the forthcoming presidential elections.
Former President Mohamed Nasheed, representing The Democrats, JP leader Qasim Ibrahim, and MNP President Mohamed Nazim convened at the JP office in Male' today for political talks aimed at exploring the possibility of a unified front against the current government led by President Ibrahim Mohamed Solih.
Both Qasim and Nazim had previously declared their intention to run for the presidency. The Democrats, however, has not yet revealed the identity of their potential candidate.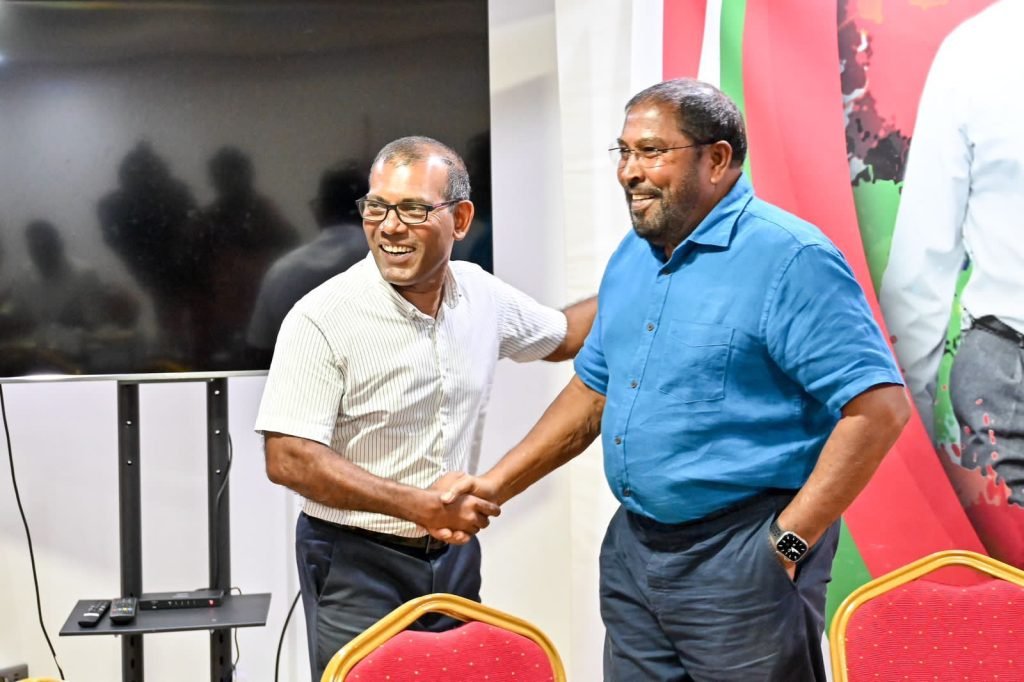 Following the discussions, Qasim told the media that the three parties had reached an agreement to find a candidate who could garner support from all opposition factions. Stressing the significance of securing the largest opposition party's approval, he emphasised the need to engage in further dialogue with the Progressive Party of Maldives (PPM) and the Maldives Reform Movement (MRM).
Nasheed, who recently left the ruling Maldivian Democratic Party (MDP), expressed satisfaction with the agreement, highlighting the commitment to nominating a candidate acceptable to all participating parties. He asserted that a candidate agreeable to all parties would emerge in due course.
Nazim, representing the MNP, confirmed that The Democrats and JP had concurred on fielding a common candidate to challenge President Solih.
So far, the PPM has refrained from issuing an official statement regarding this recent development. The party's leadership had previously called on all opposition parties to rally behind their presidential candidate, former President Abdulla Yameen, who is currently serving an 11-year prison sentence on charges of corruption and money laundering. However, Yameen's eligibility to contest the upcoming election remains uncertain, as his appeal process is still underway and it is doubtful whether it will reach a favorable conclusion in time for the election.
Political analysts express scepticism over the opposition coalition, citing the divergent ideologies and conflicting interests of the involved parties. Just months ago, JP leader Qasim Ibrahim openly criticised President Nasheed, accusing him of being power-hungry and unwilling to cede authority to others.
Related posts