The ruling Maldivian Democratic Party (MDP)-led coalition has unveiled the third chapter of President Ibrahim Mohamed Solih's "Happy, Peaceful Maldives" manifesto, underscoring prevention as the key component for achieving social harmony.
During a campaign rally in Ukulhas of Alifu Alifu Atoll, President Solih introduced the chapter on social harmony, highlighting its formulation to preclude crimes before they impact the youth.
The policy emphasises that effective crime prevention is founded upon identifying its root causes and eradicating them. This entails a holistic community approach and collaborative efforts to intervene early in order to prevent crime.
The policy underscores that individuals who commit crimes should be held accountable while preserving their human dignity, and also safeguarding the rights of victims. It stresses that rehabilitation should encompass preparing perpetrators to reintegrate into society as responsible citizens, providing access to programmes that ensure a dignified life post-rehabilitation.
The MDP showcased its track record over the past five years in ensuring a secure environment for citizens. It pointed out that awareness campaigns conducted by the Maldives Police Service (MPS) in conjunction with various stakeholders reached over 35,000 individuals, and crime prevention social groups were established on 113 islands across the nation.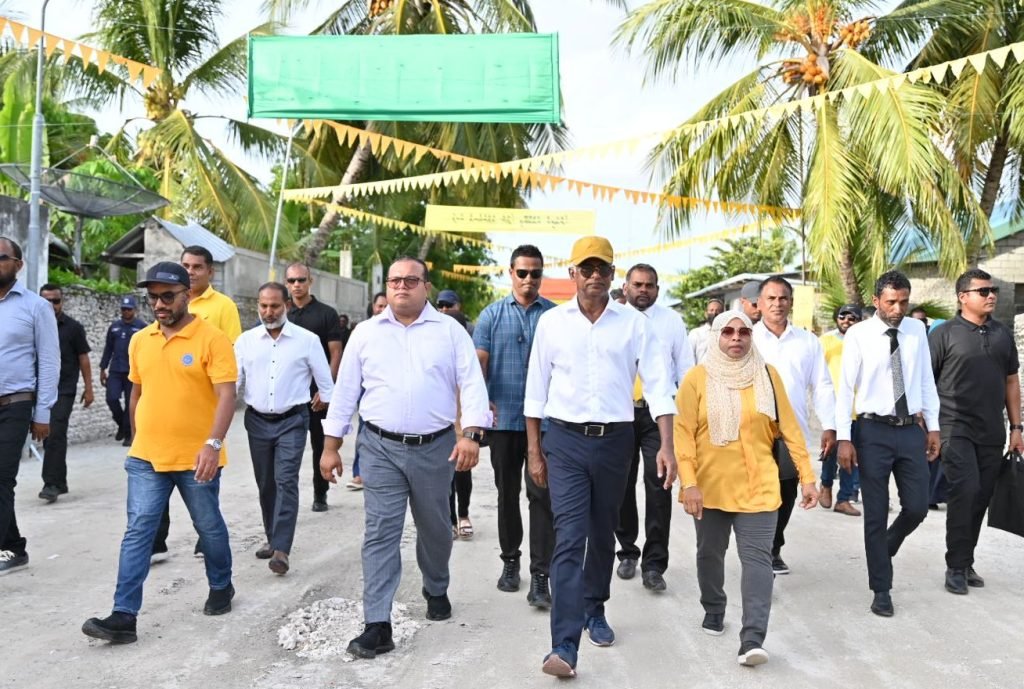 The party highlighted the pivotal role of the police as crime watchdogs, noting that amendments to the Police Act enacted during President Solih's tenure enhanced a more modern policing force. It also highlighted the successful implementation of neighbourhood policing in the Maldives, expanding the service to 134 islands.
Regarding rehabilitation, the party acknowledged significant efforts to overhaul the rehabilitation practices in the country. New laws for justice concerning minors were introduced, and work was undertaken to improve the jail system. The party stressed the recruitment of more staff to correctional services and comprehensive training, including adherence to the United Nations Standard Minimum Rules for the Treatment of Prisoners (The Nelson Mandela Rules).
Based on these achievements, President Solih's pledges for the next term are centered on three core areas: prevention, vigilance regarding criminal activity, accountability, and rehabilitation.
These pledges involve strengthening inter-agency coordination for crime prevention and enhancing crime prevention programmes through a comprehensive approach. Additionally, empowering community watch mechanisms and aligning them with neighbourhood policing will be prioritised, along with adopting a child-protection and family-centric approach for minors affected by crimes.
The policy also acknowledges emerging crimes such as youth violence, financial crimes, internet-based crimes, and scams, and addresses them through collaborative efforts among relevant stakeholders. It places importance on reviewing the criminal landscape of the Maldives, particularly in relation to drug trafficking.
Speaking at the rally, President Solih remarked that the last five years had witnessed a significant reduction in crimes due to the government's non-engagement with criminal gangs. He subtly criticised the tenure of former President Abdulla Yameen Abdul Gayoom, noting that his predecessor's term was marked by frequent stabbings and brutal killings on the streets.
President Solih supported his claims with crime statistics, stating that his term was the most peaceful in recent years. He emphasised that while political alliances were formed with gangs to seize power, he had never done so—neither before coming into power nor during his term.
He highlighted his policy approach as encompassing prevention and effective rehabilitation, ensuring that wrongdoers returned to their families reformed.
Related posts