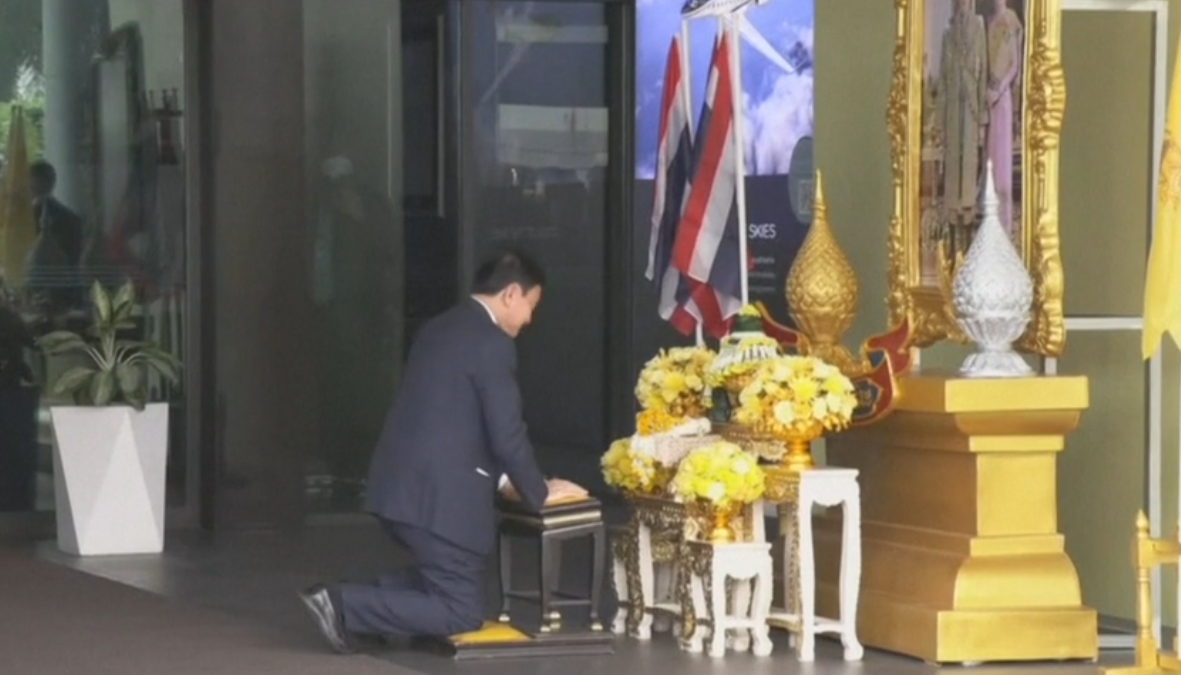 Thailand's former Prime Minister Thaksin Shinawatra returned to the country after spending 15 years in self-imposed exile.
The charismatic and politically ambitious telecoms tycoon was met with enthusiastic cheers from his loyal supporters as he arrived at Bangkok's main airport. Accompanied by his children, he briefly paid respects to a portrait of the king and queen.
However, Thaksin was taken to the Supreme Court to face his convictions. Despite the celebratory atmosphere upon his arrival, he was sentenced to eight years in prison for three past convictions. He was sent to Bangkok Remand Prison, where given his age of 74, he will be housed in a specialised wing equipped with medical facilities. Additionally, due to health protocols, he is set to undergo a 10-day quarantine.
The former Prime Minister claims that the past convictions were orchestrated to sideline him from politics.
The Pheu Thai party, led by a frontrunner and staunch Thaksin loyalist, has gained significant momentum in recent times. Observers speculate that Thaksin's return is an attempt to influence the outcome of the election, possibly consolidating power within his political sphere once more.
The prospect of seeking a royal pardon now looms over Thaksin's situation. Authorities have indicated that he could submit a petition for clemency from his prison cell, a process that usually takes one to two months.
The northeast, where Thaksin's Pheu Thai party traditionally held strong support, witnessed many loyalists journeying to the airport to showcase their backing.
Thaksin's Pheu Thai party will likely join a coalition government. The initial hopes of the Move Forward party, led by a group of radical young members, had envisioned a new beginning after securing the most seats in the May election. The party's partnership with Pheu Thai seemed promising, but the evolving coalition now includes nearly every party except the reformers, even those led by former coup-makers, contradicting Pheu Thai's earlier stance of avoiding deals with their historical adversaries.
Pheu Thai contends that these two developments are unrelated, a claim that only a few find convincing. Thaksin's return, coupled with the shifting dynamics of political alliances, suggests a more intricate narrative than meets the eye.
Thaksin's influence on Thai politics has spanned over two decades. His billionaire status and role as the populist figurehead of Pheu Thai shaped the course of the nation. Since March, Thailand has been operating under a caretaker government, with the new parliament grappling with weeks of deadlock. The anti-establishment Move Forward party's victory in the May election was met with resistance from conservative lawmakers, compelling Pheu Thai to spearhead a renewed effort for change.
While the Supreme Court's order for Thaksin Shinawatra to serve an eight-year prison term looms, the observers believe his return is closely tied to Pheu Thai's potential resurgence to power, possibly facilitated by a negotiated deal to avoid the full sentence. Thaksin's age and unique circumstances might also play a role in shaping the course of his legal journey.
Related posts