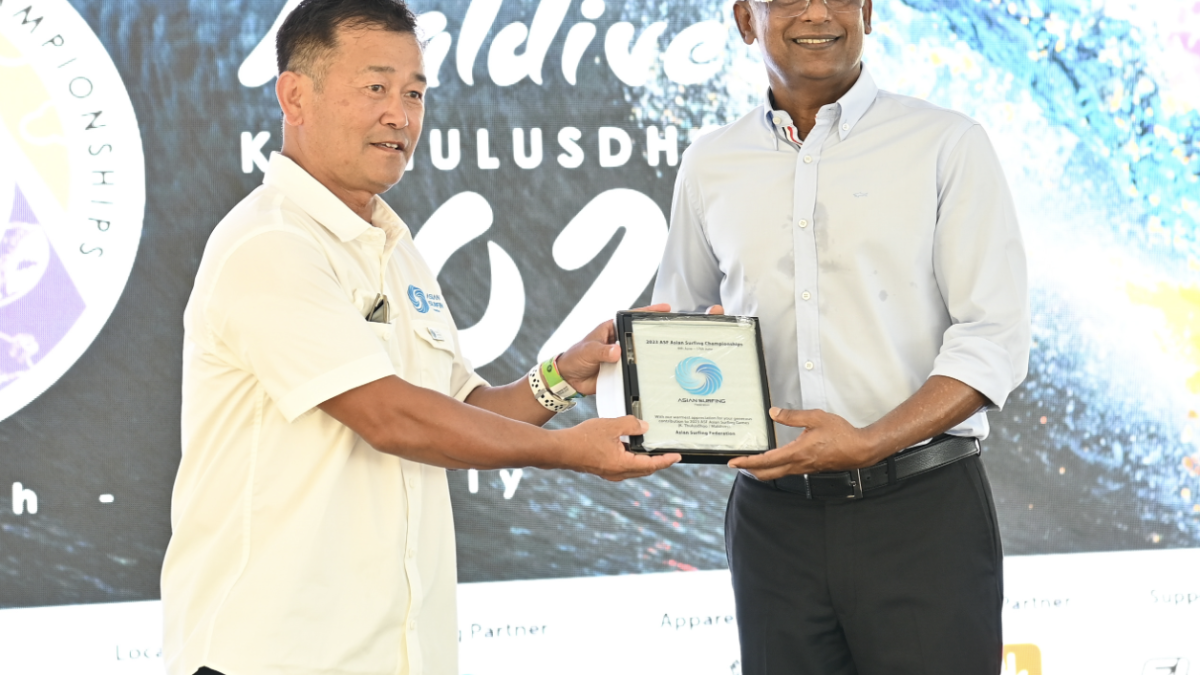 The highly anticipated Asian Surfing Championship has kicked off in Thulusdhoo, Kaafu Atoll, with 87 surfers from 18 countries.
Competing in this prestigious tournament are Afghanistan, Bangladesh, China, Chinese Taipei, India, Indonesia, Iran, Japan, Lebanon, Malaysia, Mongolia, Palestine, Saudi Arabia, Singapore, South Korea, Sri Lanka, Thailand, and Sri Lanka.
The grand opening of Asia's largest surfing tournament was attended by President Ibrahim Mohamed Solih along with Vice President Faisal Naseem and Minister of Youth Sports and Community Empowerment Ahmed Mahloof. The President of the Asian Surfing Federation Atsushi Sakai was also among the notable guests.
The Maldives men's team features a total of eight skilled athletes, including reigning National Surf League champion Ahmed Agil (Ammadey) and Hussain Areef (Ibu), who arrives off the back of his recent triumph at Gamadhookolhu. Hoodh Ahmed, Jailam Nizar, Abdulla Areef (Fuku), Ismail Miglal (Kuda Issey), Adam Mueen Ibrahim, and Hassan Nasih (Chika) complete the lineup of impressive contenders.
Representing the Maldives in the women's division for the first time in the history of the tournament is Aya Naseem. This is the first time a female athlete and junior surfers from the Maldives have participated in an international competition, adding an exciting element to the championship.
The junior division, which includes the men's under-18 category, will see eight talented Maldivian surfers competing. Notable contenders in this category include Kayan Abdulla Areef (Kaiputi), the reigning Dhivehi Surf League Junior under 18 boys Champion, along with Yasin Ahmed Nashid, Mohamed Zayan (Choppu), Sayyid Salahuddin, Ismail Madooh Ahmed, Shanif Shafiq, Mohamed Inan Abdul Hannan, and Yoosuf Kayan Hamdan Zaki.
The tournament features a total of 12 men's open heats in the opening round. With extensive training since February, the national team, led by experienced coach Clyde Martin, is aiming for triumph in the prestigious competition.
Related posts