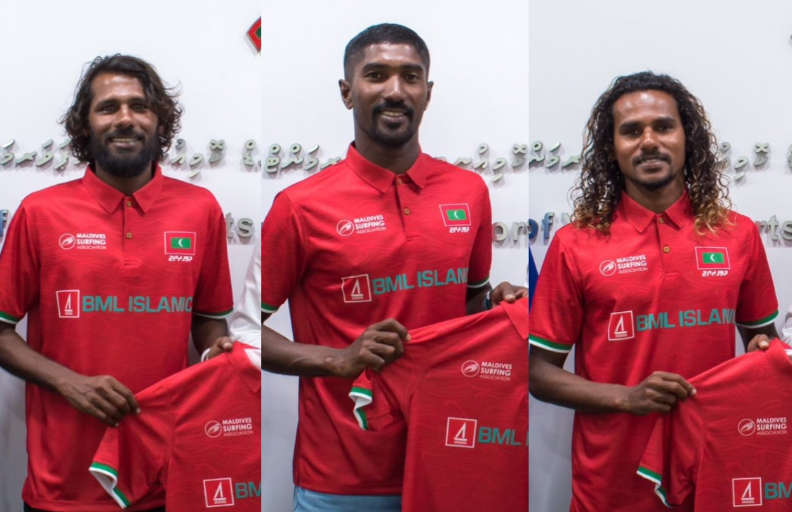 Maldives National Surfing team members embarked on a journey to El Salvador on Wednesday to take part in the World Surfing Games, hosted by the International Surfing Association.
Representing the Maldives in the competition to be held from June 30 to July 7 are three surfers: Ismail Rasheed (Smiley), Ahmed Agil (Ammadey), and Hoodh Ahmed (Hoobz).
Guiding the athletes in the competition are coaches Clyde Martin and Shahid Amin (Shaad), who is also the vice president of the Maldives Surfing Association.
This is the second time that the Maldives has participated in the World Surfing Games. The country previously competed in the 2019 edition which was held in Japan. Ammadey and Smiley along with Hussein Areef (Ibu) finished the tournament with a strong showing.
Global surfing stage
In a competition where surfing's best athletes come to compete on the biggest stage and despite being new to the global surfing stage, the Maldivian surfers made a commendable showing in the men's ranking in Japan, finishing in 30th place. Encouraged by their performance, the Maldives Surfing Association (MSA) aims to break into the top 20 this time around.
Since February, the team has been diligently preparing with seasoned coach Clyde Martin to compete not only in the World Surfing Games but also in the upcoming Asian Surfing Championship (ASC) and Indian Ocean Island Games (IOIG).
Apart from the country's participation in the World Surfing Games, the Maldivian Surf League is hosting the "Gaamaadhookolhu" tournament from July 14 to July 18th in Himmafuahi Island. This is part of a series of five tournaments which have been ongoing throughout this year. With two tournaments already concluding earlier this year, Ammadey stands at third on the rankings and Hoobz follows close behind at fifth, Smiley, only having participated in one event comes in at 12th.
From July 14 to July 18, Himmafushi Island will play host to the Gaamaadhookolhu tournament, organised by the Maldivian Surf League This competition is part of a series of five tournaments that will take place throughout this year. Ammadey is currently in third place on the rankings after two tournaments concluded earlier this year, with Hoobz following close behind in fifth. Smiley, who has only competed in one event, occupies twelfth position.
Related posts