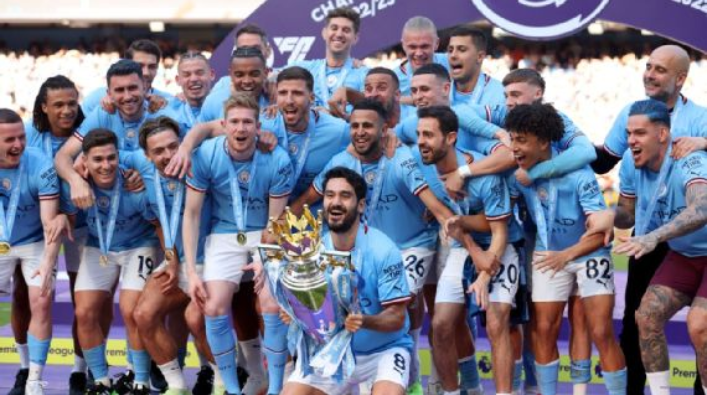 The party was already underway at a very relaxed Etihad Stadium as a very changed City side hosted Chelsea on Sunday night. 
City had been crowned champions of the Premier League for a third consecutive season due to Arsenal drawing against Nottingham Forest on Saturday. This allowed manager Pep Guardiola make nine changes to his starting lineup as he gears up for the Champions League and FA Cup finals.
Erling Haaland sat this game out as Julian Alvarez provided the cutting edge with a composed finish to put City ahead after only 12 minutes. The fans reveled in the celebratory atmosphere under the warm sunshine, eagerly awaiting trophy presentations and the ensuing festivities.
However, Chelsea threatened to spoil the mood, creating some of the better chances as the game went on. However, Chelsea posed a threat to City's joy, creating some promising opportunities as the match progressed. Connor Gallagher's header hit the post, and Raheem Sterling, facing his former club, was denied by City's backup goalkeeper Stefan Ortega in a one-on-one situation
City also came close to extending their lead, with Kalvin Phillips hitting the woodwork. Nevertheless, they secured another victory, adding to their relentless winning streak that has earned them the title and a shot at the Treble, with the FA Cup final at Wembley and the Champions League final in Istanbul on the horizon.
Man City's Domination
With the Premier League title already secured, Guardiola seized the opportunity to give his B-team players valuable game time. The remarkable depth of City's squad, accumulated over Guardiola's tenure, was evident by glancing at the bench. With big names such as Haaland, De Bryne, Gundogan and so on all being rested.
They remain on course to emulate Sir Alex Ferguson's Manchester United in 1999 and complete the Treble if they overcome United in the FA Cup Final and Inter in Istanbul.
The City team has won the title 5 times out of 6 since Guardiola took over in 2017/18, breaking the record for the most points ever collected in one premier league season and setting another record of 106 goals. In 2018/19 they outscored all the opposition and had an astonishing record of only one goal conceded to every four they scored. City have since then retained the title while threatening to spread their supremacy across Europe.
Combining style and substance, City exemplifies greatness on the football pitch. This year, they aim to silence their doubters and solidify their claim as the greatest champions of all time.
Chelsea's Misery
Even though they had some decent chances here and there and only lost by one goal to newly crowned champions City. It has been a very disappointing season for Chelsea which sees them languishing in 12th place, Uncharted territory for the blues.
With Mauricio Pochettino being confirmed to replace Frank lampard next season and materials to work with under the guidance of new owners Todd Boehly and Behdad Eghbali, expectations are very high for the future as Pochettino looks to emulate the intense attacking style he has fashioned into his previous teams.
In the meantime, Chelsea faces Manchester United on Friday as they seek to end a disheartening season on a positive note.
Related posts