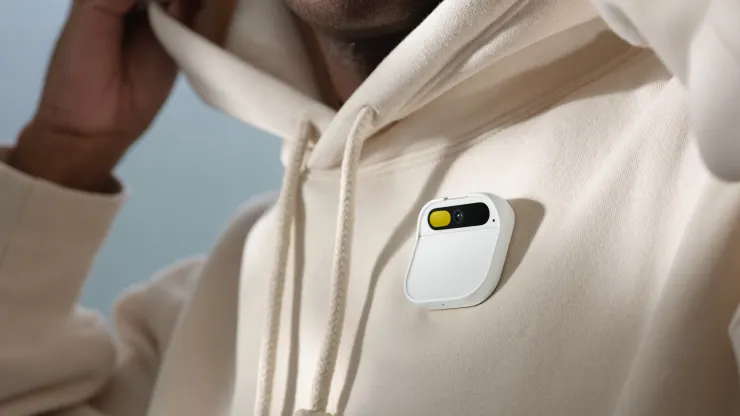 Humane, a pioneering artificial intelligence startup founded by former Apple designers Imran Chaudhri and Bethany Bongiorno, has launched its groundbreaking product, the "Humane AI Pin," priced at $699. This innovative wearable is poised to disrupt the smartphone market, offering users a distinctive alternative for communication and information access.
Designed with a focus on user privacy, the Humane AI Pin distinguishes itself by eliminating constant surveillance features, lacking wake words, and activating only in response to user engagement through voice, touch, gestures, or its unique laser ink display. This ensures a heightened level of security and addresses growing concerns about privacy in the age of ubiquitous technology.
Humane has captured significant attention, having raised over US$200 million, including an impressive US$100 million funding round from prominent investors such as Microsoft, LG's venture arm, Tiger Global, Sam Altman, and Marc Benioff. This substantial backing underscores the confidence in the potential impact of Humane's innovative approach to AI and wearables.
One notable aspect of the Humane AI Pin is its monthly data subscription requirement of US$24 to T-Mobile. This feature sets it apart from traditional wearables, as the device operates independently with its dedicated phone number. Users can make calls, send texts, and access information without the need for a tethered smartphone, providing a new level of freedom and flexibility.
Orders for the Humane AI Pin are set to commence on November 16, allowing consumers to experience a paradigm shift in wearable technology. Powered by a Qualcomm chipset, the device incorporates cutting-edge features, including a built-in speaker and camera. To address concerns about privacy, the device signals when the camera or speaker is activated, ensuring transparency in its operation.
During a demonstration, Chaudhri and Bongiorno showcased the device's capabilities, such as real-time translation of spoken conversations from Spanish to English and vice versa. The AI Pin is not limited to traditional app downloads; instead, it accesses AI services directly from the internet. Collaborations with major companies like Microsoft, Google, and OpenAI provide users with a broad spectrum of AI-powered services.
The Humane AI Pin represents a shift towards a more privacy-conscious and user-centric approach to AI and wearables. With its unique features, strong financial backing, and commitment to user privacy, the Humane AI Pin is poised to make a significant impact in the competitive technology landscape.
Related posts