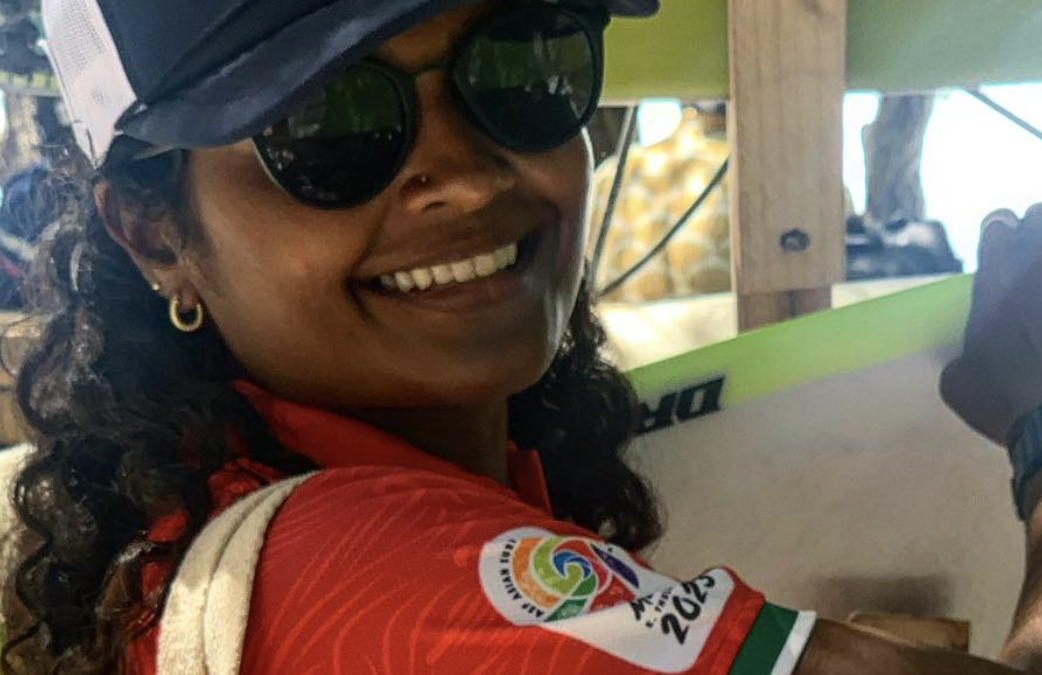 Mariyam Rahil Naseem (Aya), who made history as the Maldives' first female surfer at an international competition, has advanced to the second round of repechage in the ongoing Asian Surfing Championship (ASF) in Thulusdhoo Island, Kaafu Atoll. 
Aya faced Japan's Rika Shoji, Lebanon's Lena Kamal Abdul Noor, and Lena Kamil Allam in Heat 1 of the repechage event. She managed to qualify to the second round of the repechage.
Aya took part as the sand pourer alongside the Maldives flag-bearer, Ahmed Agil (Ammadey), during the opening ceremony held on Saturday.
Sixteen surfers participated in the women's division, with Aya taking part in the first heat of the first round of the main event. She was joined by Japan's Sumomo Sato and China's Jinyi Wen, while Afghanistan's Urzala Weiss was unable to compete in the heat.
During the heat, Aya scored 2.80 points, narrowly missing second place by only 1.71 points. Jinyi secured second place with 3.50 points, while Sumomo emerged as the winner with an impressive 12.67 points.
Aya has established herself as a dominant force in women's surfing in the Maldives, being the first athlete to triumph in all competitions organised by the Maldivian Surfing Association (MSA) for women surfers. Her notable victories include the 2021 and 2022 Rannamaari Challenge, the Kalhegalekodaa held in Gadhoo, Gaafu Dhaalu Atoll, last year, and the Gaamaadhookolhu event held in Himmafushi, Kaafu Atoll.
Reflecting on her performance after the heat, Aya expressed her determination to learn from her mistakes and enhance her performance in the repechage round. She said: "The first wave took a long time, so I was a little nervous. It takes at least two good waves in 25 minutes. The Japanese and Chinese athletes I was up against are incredibly talented, making the heat highly challenging."
"By the end of the heat, I needed a small score to secure second place. If I had capitalised on the last-minute wave, I would have had a great chance of finishing second. Nevertheless, it is a tremendous honour to represent the Maldives as a female surfer in an international competition for the first time. I believe this serves as an inspiration to other female surfers," Aya added.
Related posts